stories from Mujeres del Sur
15 years reinforcing feminism
This publication brings together, in an illustrated format, the stories of activists from Argentina, Paraguay and Uruguay. It was produced by Fábrica Memética for Fondo de Mujeres del Sur in a process during which the teams and the protagonist activists worked together.
We wanted to tell the life stories, the actions that are made possible, the imaginations that are sparked and that are empowered by activism. The freedoms and rights, the collective construction that takes place in feminist networks that then becomes sovereign experiences. These are individual and collective stories of what is transformed when feminisms are reinforced.
Activisms in times of pandemic
Systematisation and analysis of feminist strategie simplemented by organisations supported by the Fondo de Mujeres del Sur during the COVID-19 emergency.
LGBTTTIQ+ activism In Argentina Uruguay and Paraguay
Status Report
Exploratory study by Guadalupe Allione Riba, Fidel Azarian,
Candela Commeres Benejam, Melina Deangeli y Ana Fiol.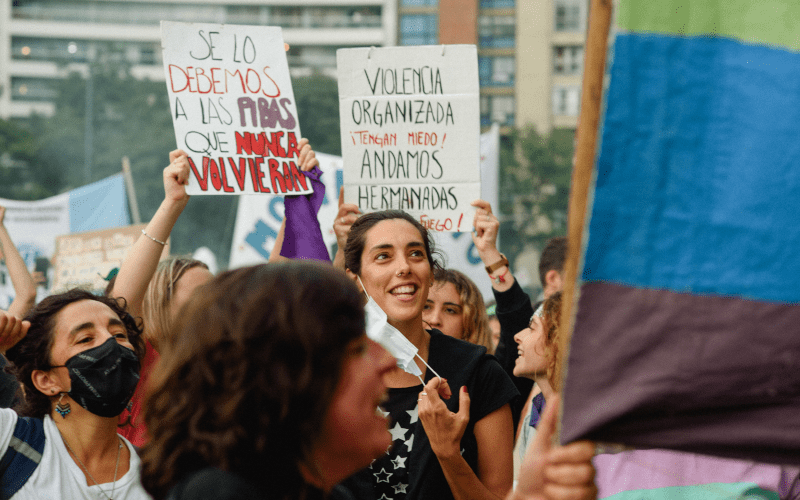 In 2021 we lived in an amphibious world. Still in a pandemic, isolated intermittently until mid-year in Argentina and Paraguay, we began to meet in person again on the streets, on field visits, in our offices. Our societies continued to be intersected and put under pressure by the same inequalities, the same forms of violence. Many forms of violence intensified, especially those that impact the bodies of diverse women, identities and sexualities.
Even in the midst of this complex and changing landscape, there were advances and lessons we learned that we can celebrate. We believe that the magnitude of care tasks continued to become more visible, as well as the need to build community connections and to find new ways of thinking and acting in the face of the health, economic and climate crisis.
Keep reading and find out why, what for and how has FMS worked during 2021.
2020 was a year to find new ways to sustain feminist activism. In the changing and complex context, we were able to reorganise ourselves, find a new way to communicate, to maintain our network, to take care of ourselves as a community and collectively. In Paraguay, thanks to the articulation of feminist and social movements, a law was approved in September to support soup kitchens, which are key to guaranteeing food security for a large percentage of the population during the emergency. In Uruguay, LBTIQ+, feminist, social and union organisations decided to establish shared platforms for popular and territorial resistance, in the face of the COVID-19 pandemic and changes in the political scene. In Argentina, despite the differentiated impact of the crisis on the lives of women and LBTIQ+ people, we ended the year with a historic and encouraging achievement, which was made possible thanks to the political construction of the women's movement: as of December 29, abortion is legal!
In 2021, we will continue working to strengthen feminist networks and activism that promote lives free of violence, the autonomy of women and LBTIQ+ people and a more liveable, just and equal world.
In 2019, feminisms and LBTIQ+ movements in our sub region faced significant challenges while also achieving significant advancements. In Argentina, the strength of feminism and organised women, through movements known as the Marea Verde (Green Tide - for legal abortion) and Ni Una Menos (Not One Woman Less – against femicides), spread across Latin America and gained international relevance. This context maximised the potential of joint actions, networks and alliances between organisations across multiple territories, and gave global visibility to feminist and women movements. In Uruguay, diversity movements managed to defend the Ley Integral para Personas Trans (Comprehensive Law for Trans People), a historic breakthrough for human rights. Through awareness-raising campaigns and communication actions spearheaded by diversity movements, activist organisations and groups managed to stop the referendum proposed by opponents to basic rights, which attempted to repeal this law. In Paraguay, after years of struggle unionised domestic workers managed to equalise their salaries to a hundred per cent of the minimum wage, which is an unprecedented advancement for women's labour rights in this sector.
Fondo de Mujeres del Sur (FMS, for its acronym in Spanish) was created in 2007 to  promote women ́s rights through the investment in women-led grassroots organizations.The FMS is the only women's fund of Argentina, Uruguay and Paraguay that mobilizes financial, political and technical resources to support the initiatives of women's organizations that promote gender equality as a central strategy for social change. The FMS is part of the International Network of Women's Funds (INWF / Prospera), a membership association that links 38 Women's Funds around the whole world to promote philanthropy with a feminist perspective through diverse fundraising alliances.