THE POLITICS OF SELF-CARE AMONG WOMEN AND THE LGBTIQ+ POPULATION
Gabriela Schvartzman and Ana Galeano wrote this story about Jessica Arias and Rebeldes del Sur, an organization from Bañado Sur (Asunción, Paraguay). Later, Fábrica Memética worked with Jessica and the Fondo de Mujeres del Sur team to do a graphic adaptation of the story. We shared the story on Human Rights Day because we believe territorial feminism can strengthen and guarantee these rights, building inclusive democracies free from violence.
Jessica Arias is a young working mother of two who is studying to be a social worker. She was born in Bañado Sur, a populated territory along the coast of the Paraguay River in the country's capital.
Jessi identifies as a militant feminist and a community activist. For several years, her community work has contributed to collective leadership. There, she began getting to know other women and getting organized based on specific needs. Examples include safe shelter during the more frequent and severe flooding caused by climate change and the negative impact of the large coastal shoreline project "Franja Costera" in Bañado del Sur.
Through simple strategies like channeling local demands, obtaining the resources necessary for moves and outfitting temporary shelters, Jessi and her fellow women activists forged stronger ties with one another and with other community organizations.
For Jessica, feminism has driven many changes in her life. By analyzing her own story from a feminist lens, she was able to put a name to many individual frustrations that are also part of the mandates a patriarchal society imposes on women. She explains that one of her most revealing discoveries was the enormous challenge of considering herself part of a collective—not as island—building awareness of the structural and state violence against a single mother from Bañado Sur.
REBELDES DEL SUR AND THE STRUGGLE TO ACCESS BASIC PUBLIC ASSISTANCE
The Rebeldes movement was born in 2015 as part of the "Desde abajo" movement. It stemmed from a need for a place where the women in their organization could discuss issues that affected them particularly as women.
Like their fellow male activists, they shared a revolutionary ideal on the need for communities to move forward. However, despite this clear desire, other specific issues arose about the modus operandi and other specific situations that the male activists were not aware of or ultimately minimized. As Jessi explains it, "While the men were thinking about how to start the revolution, we were thinking about how to ensure that the revolution involves the whole family and keeps us women whole and happy".
That is how the Rebeldes first began getting together. Initially, it was ten or twelve women getting together to talk about their day-to-day lives and troubles while also becoming politically active, debating and understanding how patriarchal violence operates.
Right from the start, the goal was to strengthen a group of dissident women who could expand and have an impact on others, building workshops and even a shelter to keep women suffering from domestic violence safe.
As a result of the pandemic, it became difficult to move forward with all these projects. During this time, the greatest challenge was to stay in touch and care for one another, keeping each other going.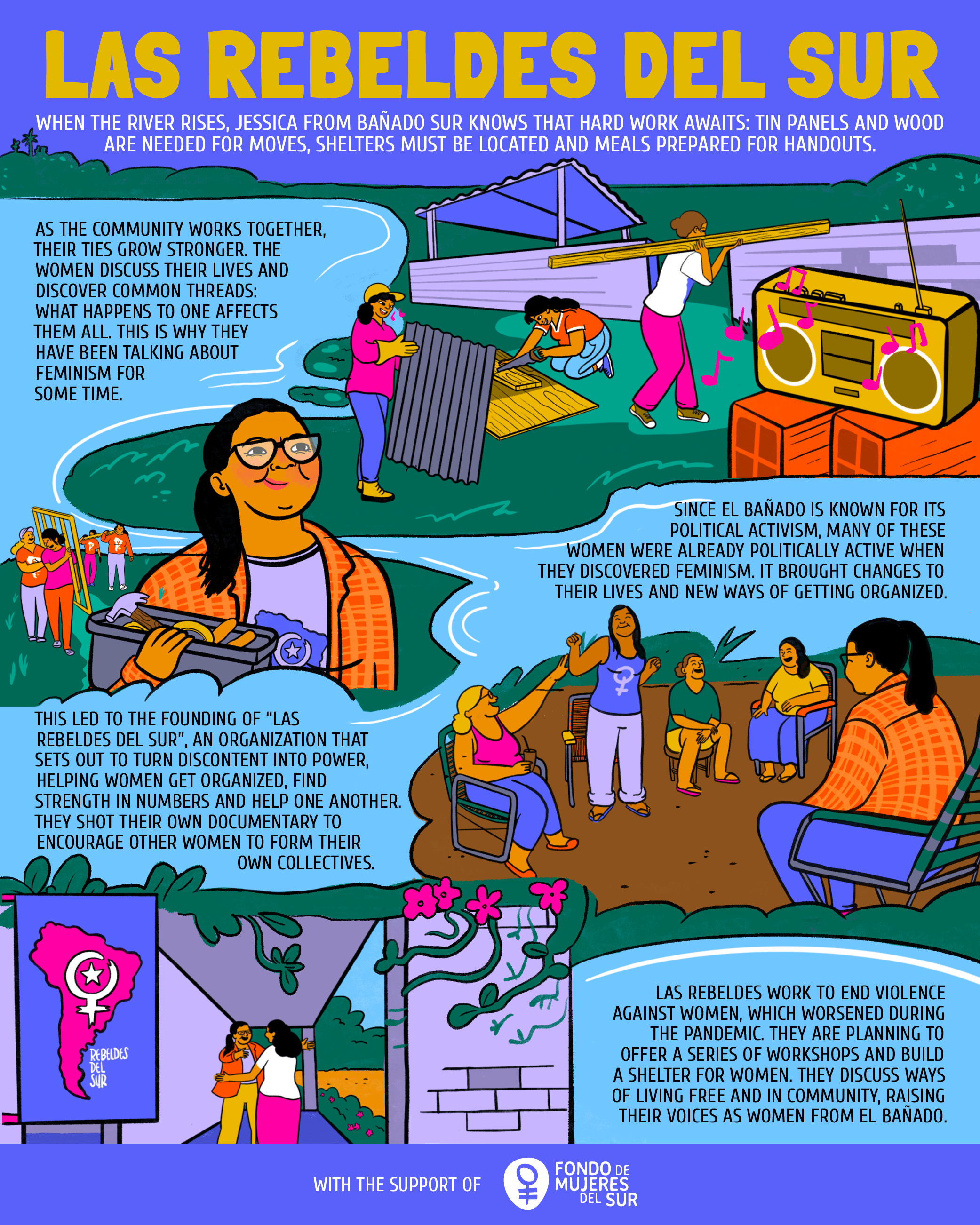 AUDIOVISUAL TOOLS AS A MIRROR FOR COLLECTIVE STRUGGLE
The possibility of accessing financing from Fondo de Mujeres del Sur as part of the Women out Loud program takes some of the pressure off activism and involves activities that require little in terms of resources.
That led to the idea of creating an audiovisual presentation to tell the story of the history of the organization, sharing their daily work. With this material, they wanted to inform others that their organization was a group of working women who struggle to fight machismo at home every day and ensure their families have food on the table. By establishing this as their baseline, they have found the strength in numbers and understood the importance of collective efforts.
THE POLITICS OF CARE AS COMMUNITY PRACTICE
Among the personal changes that she attributes to the organization, Jessi says that she has a whole new perception of herself and a new way of looking at her expectations and her connections with those around her. She is increasingly clear on what relationships one should strengthen and sustain within a framework of respect and emotional responsibility. This, and prioritizing dialogue as a tool, were activism's important contributions to her life and personal growth.
A community and neighborhood-focused perspective is fundamentally anchored in all that the women of Bañado del Sur do to sustain life, "Working at the organization and jointly with other women, we were the ones who made sure soup kitchens kept serving meals in all the neighborhoods throughout the pandemic," says Jessi.
Some 3,700 families in Bañado del Sur were eating at the 21 soup kitchens they organized. Currently, 14 of the soup kitchens remain, feeding some 1,200 families.
Keeping up a soup kitchen is a challenge. Despite the Soup Kitchen Act, a law passed in Paraguay at the behest of neighborhood residents exerted during the crisis, the women are the ones who work to ensure the law is upheld and that people's rights are protected. According to the law, soup kitchens should prepare their meals with quality ingredients like organic fruits and vegetables from family farmers in the countryside. In practice, however, this rarely occurs. The food shipment that the National Crisis Bureau sends to communities once a month is enough for maybe six meals per week.
Little by little, this has impacted the women's ability to keep the soup kitchen running; now that lockdown measures have eased, these women must return to their jobs to keep food on their tables at home.
The Rebeldes del Sur initiatives are focused on care, sisterly support and training to ensure that when the next crisis comes, they will be united, organized and ready for revolution.