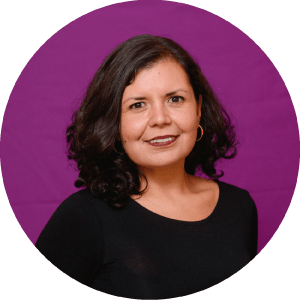 raquel aveiro
National Coordinator of FMS Paraguay.
Contact: raquelaveiro@mujeresdelsur.org
---
She is the National Coordinator of FMS Paraguay since 2016. She joined the FMS Paraguay in 2013 as administrative. She holds a degree in public accountancy from Universidad Nacional de Asunción and has a Master's degree in human rights from Charles III University of Madrid, Spain. She also has a higher degree in gender and public policies from the Latin American School of Social Sciences (FLACSO, by its acronym in Spanish). She has a diploma in didactics and is a PhD student of human rights.  
She has worked in the Equal Opportunities for Women in Education Project from the Woman Secretariat and the Ministry of Education and Culture from Paraguay. In addition, she has also worked for civil society organisations, such as Amnesty International and Instituto Bartolomé de las Casas from Charles III University of Madrid.
She has more than 15 years' professional experience in projects related to international cooperation, such as the following ones: Coordination Strategies and Interinstitutional Support of the Woman Secretariat, Woman Secretariat, IDB, Design and Implementation of a Communication Strategy, Woman Secretariat, IDB, LAGNIKS Paraguay's Governance Diagnosis and Development, United Nations, IIGOV, Generalitat de Catalunya, among others. She has first-hand experience as an independent consultant on gender and human rights. 
Her main areas of interest and experience are indigenous and rural/peasant women, gender equality, women's training, sexual and reproductive rights, local development, violence against women and poverty eradication. She speaks Guarani.