Last May, the 2022 ILGA World Conference took place in Long Beach (USA). "If I had to quickly tell someone what I thought of the Conference, I would say that it allowed me to immerse myself with all my senses in a vital database, where information did not circulate on screens but in shared voices and stories, and where I was able to get a glimpse of a matrix", says María Eugenia Ludueña, co-director of Agencia Presentes. Maria Eugenia shares an enriching story about her participation in the conference.
Written in Spanish by María Eugenia Ludueña*
Translated into English by Christina Hamilton
The invitation to participate in the 2022 ILGA World Conference took me by surprise. For a long time at Agencia Presentes[1] we had put on hold trips that involved getting on a plane. Now we were not only being invited to the largest meeting of LGBT+ activists in the world, but also being invited to participate in a panel on LGBT+ activism and the media. What a joy to know that the work we do reaches other people, and even more so when what those inviting us do seems so important to us.
ILGA (International Lesbian, Gay, Bisexual, Trans and Intersex Association) today brings together 1,801 sexual diversity organisations in 168 countries. Founded in 1978, it is a federation of associations with a delicate and powerful task: to challenge world organisations such as the United Nations, governments and local institutions to guarantee the human rights of lesbian, gay, bisexual, trans and intersex people. It does this from different fronts. ILGA World also has consultative status on the United Nations ECOSOC.
The ILGA World Conference is much more than a meeting for agenda building, debate and political strategy. Every two years it brings together sexual diversity activists from its six regions: Pan Africa ILGA, ILGA Asia, ILGA-Europe, ILGA LAC (Latin America and the Caribbean), ILGA North America and ILGA Oceania. It is a worldwide phenomenon: the most important meeting of the organised global LGBT movement.
Long Beach: An LGBT+ City
Of course, the name of the host city for the 2022 Conference sounded beautiful: Long Beach, south of Los Angeles. The meeting was held from May 2 to 6 at the Westin Long Beach Hotel.
Long Beach is a city that is proud of its diversity. Along with San Francisco, it is one of those cities that scores best when evaluating LGBT inclusion indicators from a public policy point of view: it has youth support services, employment programmes for LGBT people in the public sector, special services for people living with HIV+ and great indices in terms of equity and the political participation of LGBTI people.
However, it is evident there are setbacks in terms of rights and the correlative advance of fundamentalist and anti-rights sectors in the United States. In 2022 alone, more than 240 anti-LGBTQ laws were proposed in the USA. During the Conference, women, lesbians, transvestites, trans and activists took to the streets of the United States to protest the leaked draft which included arguments to modify a judicial ruling on the right to legal abortion, which finally ended up happening in June, strongly limiting this practice and leaving the autonomy of pregnant bodies to the mercy of the opinions of the states.
Youth in Focus
The conference opening ceremony included several thrilling moments such as when the envoy for LGBT+ rights from the United States, Jessica Stern –appointed by Joe Biden in 2021– asked for a round of applause for the trans activist Alba Rueda, Special Representative on Sexual Orientation and Gender Identity, who had just been appointed to the Ministry of Foreign Affairs, International Trade and Worship in Argentina.
Among the topics addressed were the pandemic and its impact on LGBTI+ groups, youth, which was also the conference focus and theme: "LGBTIQ Youth: Future Present Change"  It Gets Better, the meeting host organisation, has its headquarters in Los Angeles and a worldwide presence, and is an organisation that focuses on this age group. "Young people face many dangerous practices, such as conversion therapies. They are unethical, unscientific and tortuous, but legal in almost 180 countries," said Martin Karadzhov, Chair of the Youth Committee at ILGA World.
"We feel betrayed by the future, our rights and issues are not a priority," said Karadzhov, who has been an activist since he was 12 years old. He also spoke about the tortuous and invasive medical treatment of intersex people, to which intersex people clapped their hands and waved their flag.
ILGA World Co-Secretaries General, Luz Elena Aranda and Tuisina Ymania Brown, called for a minute of silence for all the people who had wanted to participate, but were not there. They also recalled how the pandemic aggravated and deepened many inequalities, while the answers fell short.
Participation on a Communication and Activism Panel
On the first day and as the Presentes communicator, I participated on a panel with other colleagues on LGBTIQ+ activism and journalism. We spoke together with Hugo Greenhalgh, LGBTQ+ editor of Reuters, Nazeeha Saeed, who was born in Bahrain and lives in Germany, and is part of the Arabic media project (OutRight Action International) and has been persecuted for years and also with Kevin Mwachiro, a Kenyan journalist and podcaster who is a board member of Amnesty International Kenya, who participated via voice call.
Throughout the discussion, we shared the situation of sexual diversity news in the media and why specialised media are required to deal with these issues. We talked about the importance of establishing alliances between journalism and activism, about the new challenges that social networks bring about for us, especially when dealing with hate speech and disinformation campaigns.
The talk lasted almost three hours and we answered many questions from attendees. Although we did not have the answers for some questions: How do you communicate in countries where LGBT+ people cannot be visible because they are at risk of death or persecution?
It was also interesting to discover that we have a lot in common with colleagues from different continents with regards to our daily activities. For example, the need for training and workshops on a subject that journalism schools do not usually include in their curricula.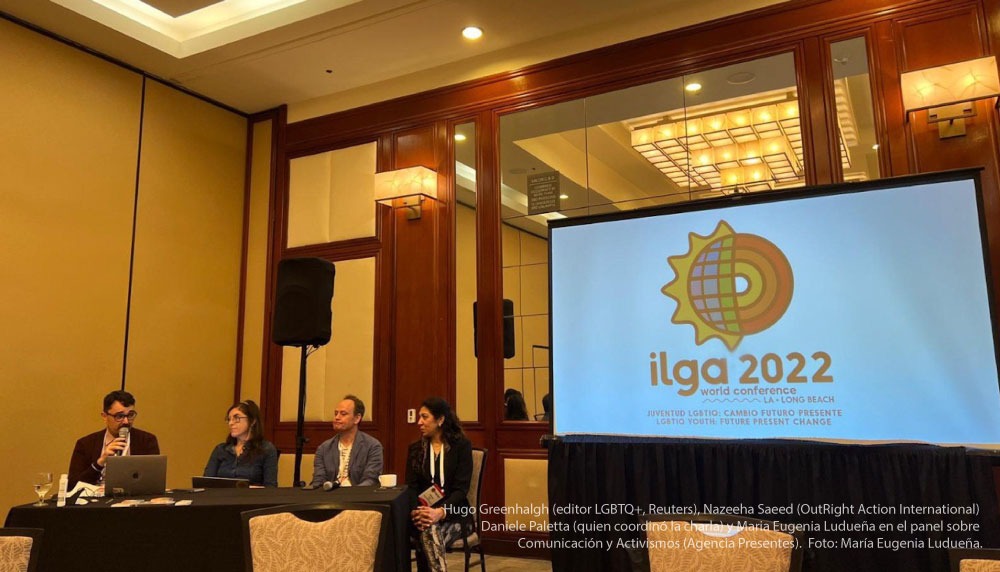 The Latin American Agenda
One of the afternoons was dedicated to working in meetings divided into regions. Participants from Latin American met with the ILGA LAC Board of Directors and organised themselves into tables to discuss the most urgent issues on the agenda.
This list, on which ILGA LAC will continue to work and convene, includes issues of concern throughout the region: the advance of hate speech, crimes and violence due to prejudice, education, childhood, rights that not everyone has access to, communication on LGBT+ issues, the political participation of sexually diverse people, which is still very scarce, the need for anti-discrimination laws for equality, intersectionality to focus on inequalities, inclusion in work and health, displacement and migration, the fight against patriarchy on its many fronts.
During the talks and panels, an agenda for the region was also outlined, with activists actively participating in the exchanges and also providing perspective which portrayed with more strength the complex layers that make up identities. For example, being LGBTI+, indigenous and migrant, how globalisation permeates identity. These were challenges shared, among others, by the organisations from Colombia and Bolivia that have been working on these issues from an intersectional point of view.
These intersectionalities were also highlighted in the report made by trans activists from the region, about LGBT+ people deprived of liberty in Mexico, Salvador, Guatemala and Honduras. The report was presented and disseminated by trans activists Ari Vera (Mexico), Bianka Rodríguez (El Salvador) and Colette Spinetti (Uruguay). These meetings, dialogues and alliances did not end at the Conference. They help me to focus on the region but also to think about it, to identify shared patterns across our countries, to devise strategies from the global south together with others.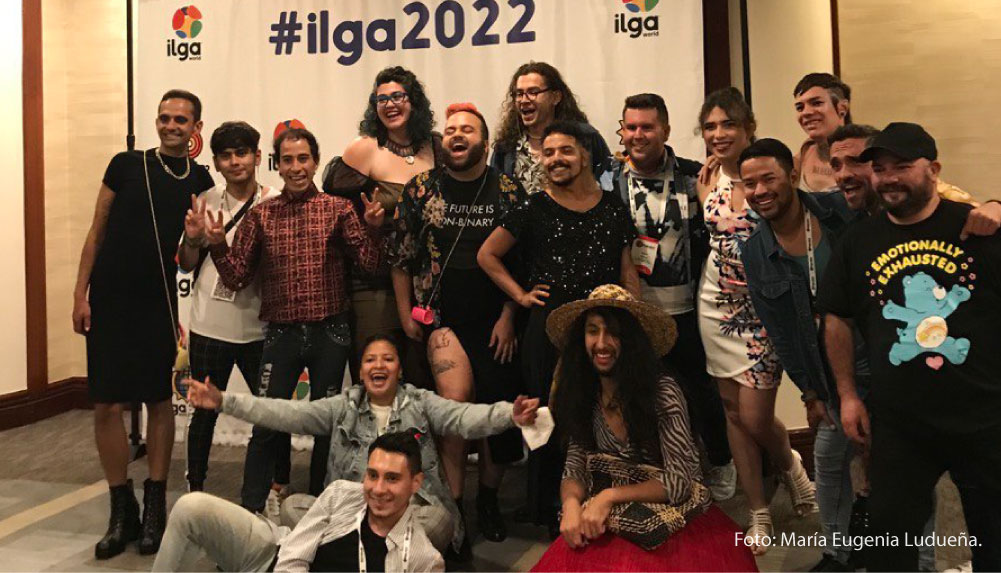 A Live Mapping
In the conference sessions there was a section reserved for people who cannot be photographed. There were also people who participated by video conference, with only audio, without video. In their countries, being gay or lesbian is punishable by law. Sometimes, as activists from Africa shared, strategies are subtle. "The absence of evidence is not evidence of absence," they said at the presentation of the Our Identities Under Arrest report, produced by ILGA which documents arrests in the last two decades in countries that continue to criminalise LGBT identities based on laws that remain in force, even if they are considered "inactive regulations".
We were constantly reminded by these moments, that although we were there and it was a celebration, there is still a long, long way to go. We see it in every mapping of LGBTI+ rights that ILGA does globally, another way of politically influencing agendas. These reports are important inputs for those who defend human rights and also for the media (such as the State-Sponsored Homophobia report and the Trans Legal Mapping Report).
Thanks to the good news announced at Long Beach, in a few months the database of these mappings will be available online, in a condensed updated version, with the option to filter by categories. We will be able to access data for each country, find information about marriage equality or gender identity law, or what recommendations the country has received to improve its standards, including if it already has them.
If I had to quickly tell someone what I thought of the Conference, I would say that it allowed me to immerse myself with all my senses in a vital database, where information did not circulate on screens but in shared voices and stories, and where I was able to get a glimpse of a matrix. The ILGA Conference helped me and continues to help me to understand what is going on, to try to answer how it can be better communicated. It also brought me closer to my Latina cousins from Colombia, Chile, Mexico, Central America.
Beyond the LAC region, it was beautiful to see, despite so many setbacks in recent times, the freedom and versatility with which so many people display their gender expression and among them, non-binary women from all over the world, especially the youngest, but not only them.
The diversity of diversity always seems to me to be one of the most interesting and difficult aspects to inhabit and share about. Hopefully all this can somehow enrich the Presentes team with new ways of communicating, ways that are more inclusive, but also and above all more comprehensive. Sometimes saying intersectional sounds like too many compartments, and we already know that there isn't a single identity that fits in a single layer or box. So Long Beach continues to be part of this small news agency that we founded with Ana Fornaro and which is also a journalism laboratory, a bridge from which to listen, build and resonate with other identities, but also other worldviews.
*María Eugenia Ludueña is a journalist, teacher and writer. She is co-founder and co-director of Agencia Presentes, a regional digital media specialising in gender, diversity and human rights.
[1] Agencia Presentes is one of the organisations supported by Fondo de Mujeres del Sur through the Leading from the South programme. Refer to: https://agenciapresentes.org