From the return of democracy to the post-pandemic emergencies. To commemorate the International Day of Action for Women's Health, we asked Myrian González Vera to share the story of the struggle in Paraguay for access to quality and caring health that is comprehensive and humanised. Myrian works at the Centro de Documentación y Estudios in Paraguay and she is also a member of the Movimiento por el Derecho a la Salud "María Rivarola".
.
Written in Spanish by Myrian González Vera (*)
Translated into English by Christina Hamilton
For fifteen years in Paraguay, a group of peasant, indigenous, urban and grass roots women have commemorated International Day of Action for Women's Health on May 28. We consider ourselves in terms of articulation and collaboration, as a strategy to unite citizen efforts and focus part of our actions on the demand for the right to comprehensive health care for women. The group started at the beginning of the democratic era that was established on February 3, 1989, after the overthrow of the military dictatorship of Alfredo Stroessner.
We won many struggles at that time. Expressing our citizenship was the main one: the freedoms that were taken from us for more than thirty years were once again rights. That allowed us to organise ourselves once more to participate politically and socially across the country. In this context, women were the protagonists of legal and institutional changes that allowed for legal equality, non-discrimination, the right to non-violence in the domestic sphere, among many other changes. Social organisations began to grow in different domains and women were also creating spaces for citizen participation to claim rights from a gender and feminist perspective.
In this way, in 2007, after a planned action that brought us together with other women's organisations, we decided to establish a space to articulate our work to specifically address the demand for the right to comprehensive health care for women. That is how the Movimiento por el Derecho a la Salud (Movement for the Right to Health) was created. It is currently known as the Movimiento por el Derecho a la Salud "María Rivarola"[1] in memory of a colleague who encouraged us to join forces and work together. The demand for the right to comprehensive health care for women included sexual rights and reproductive rights as the cohesive framework for other rights, such as gender-based violence, autonomy (including economic autonomy) and, above all, respect for our bodies.
We had come to reflect that being a woman associated with the limited role of motherhood and the subjugation of women in marriage and the family were patriarchal mandates. As well as that, these mandates curtailed other rights and prevented us from having a life with full autonomy to decide whether we wanted to study, be mothers or not, how many children we wanted to have and how to exercise our sexuality without atavistic norms.
The impetus for this articulation of organised women was a legislative proposal on sexual, reproductive, maternal and perinatal health that was presented in the National Congress. We had reviewed the proposal and were able to include our suggestions. It was a fairly modest legislative proposal which did not include highly confrontational issues such as abortion. Its purpose was to achieve a specific law, which would guarantee budgets for broad public policies, which would cover populations in a situation of increased precariousness and rights violations. We wanted a law that would guarantee comprehensive health care, quality care delivered with warmth during pregnancy, childbirth, postpartum and maternity, as well as programmes that guaranteed and respected the right to family planning and full sexuality.
This is how the campaign called "Conocé, apoyá, difundí, exigí su aprobación" (Learn about, support, share, demand its approval) was started. The campaign included the participation of approximately thirty urban, grass roots and peasant organisations, made up of women and men from different parts of the country. It was run throughout the month in which the legislative proposal was to be debated in the Senate. One of the main campaign objectives was to counteract – with detailed and pertinent information about the project contents – the efforts of groups associated with churches, conservatives and anti-rights for gender equality. These groups tenaciously opposed the legislative proposal with fallacious arguments and lies, stating that it included articles to decriminalise abortion and same-sex marriage. They knew they were lying, but they were willing to do everything in their power to prevent its approval, and they succeeded. The legislative proposal was debated again a few years later, with the same result.
All the same, that setback was not considered a failure by our articulation group. We saw the value of the debate on these controversial issues being included on the agenda and decided to continue working for the right to comprehensive health care for women. As soon as this campaign was over, we prepared for another action called "Las Carpas de la Vida" (The Tents of Life), which ended on May 28, International Day of Action for Women's Health.
"Las Carpas de la Vida" aimed to offer women a space for their civil exercise of democratic participation, monitor government administration, demand health care, inform citizens about their rights and gather complaints and concerns regarding public health.
What did we achieve? We managed to expand and strengthen leadership of women, mainly peasant, indigenous and urban-grass roots sectors, disseminate information about public health policies, the deficiencies of health care centres and hospitals in various areas of the country, and present our demands to the authorities. "Las Carpas de la Vida" campaign was the driving force for more women activists from towns and cities beyond the capital to join. These were women who were gaining their own voice and advocacy power and who became leaders for women and feminists in their places of residence.
Once we had achieved a more permanent articulation of organised women from the city and the countryside, we kept going and going, carrying out visibility actions on the main feminist commemoration dates: March 8, May 28, September 28 and November 25[2]. These are dates when we give visibility to and position our defence and demand for the rights of working women, women's health, the decriminalisation of abortion and the elimination of violence against women.
Fifteen years later, on May 28, 2022, we are now heading home after commemorating International Day of Action for Women's Health with a visibility action in front of the Ministry of Public Health and Social Welfare[3]. The main focus of the action was obstetric violence, with the slogan "No hay" (There aren't any) such as "There aren't any studies to monitor pregnancies", "There aren't any respected childbirths", "There aren't any medicines", "There isn't any respect for our cultures" (mainly indigenous women), as well as other issues that our colleagues used on poster signs in front of the main state institution that should guarantee the right to health. There aren't any...no more!!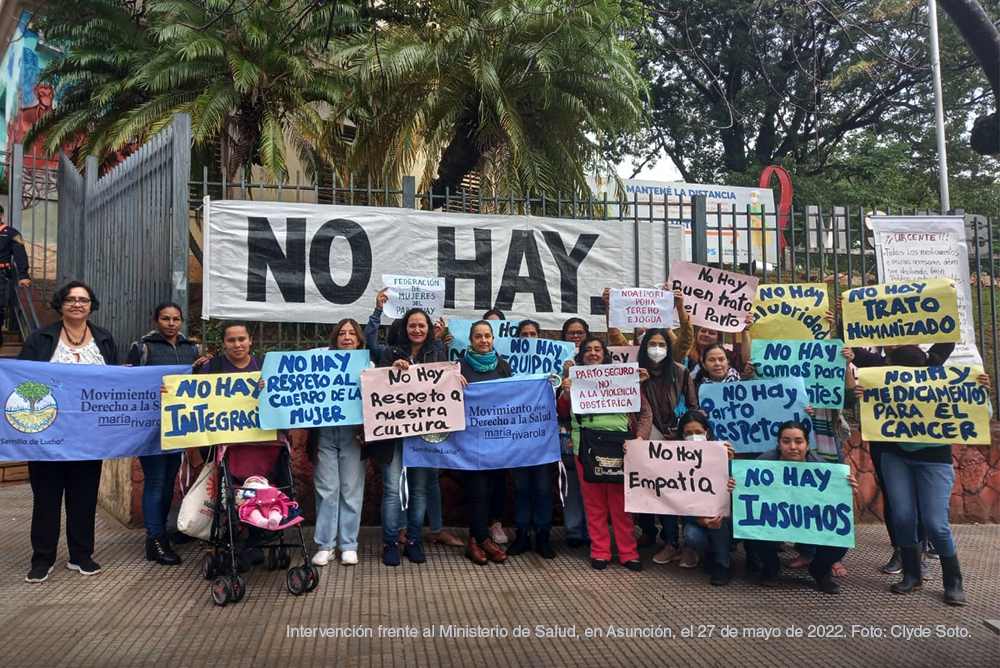 (*) Myrian González Vera is a feminist from Paraguay. She studied social communication and social anthropology. She is a researcher on human rights and women's rights issues at the Centro de Documentación y Estudios (CDE, Documentation and Studies Centre) and is a trainer for women's organisations in different fields.
The phrase in the heading in Spanish "Parir, nacer y vivir sin violencias es nuestro derecho" ("It is our right to give birth, be born and live without violence") is the slogan used by Movimiento por el Derecho a la Salud "María Rivarola".
---
[1] María Rivarola, a pioneer in the struggle, was one of the main architects of the actions to take on the fight for the right to quality and caring comprehensive health care, until she passed away in 2017.
[2] For example, the organisation called Articulación Mujeres Libres de Violencia (Women Free of Violence Articulation) is responsible for generating visibility actions on these commemorative dates.
[3] Refer to coverage of the activity in Diario ABC Color, May 27, 2022. Available here in Spanish: https://www.abc.com.py/nacionales/2022/05/25/violencia-obstetrica-mujeres-la-sufren-cotidianamente-en-los-hospitales-denuncian/