May 1 is an opportunity to commemorate, but perhaps also to question ourselves and give new meanings to old slogans, as well as challenge ourselves to construct new social subjects. Latin America is a continent that was and is experiencing deep inequalities, exacerbated by dictatorial governments and which today, in 2023 and post pandemic, finds us revisiting the world of work as a privileged space to rethink them.
By Carmen Beramendi (*) Translated by Christina Hamilton
Cover photo: Collaborative coverage of 8M 2023 in Montevideo, Uruguay by Media Red
WHAT IS COMMEMORATED? WHICH INEQUALITIES ARE INVOLVED? WHICH ONES ARE WE WILLING TO DEAL WITH?
From my life experience, I can remember many Labour Days in which I was actively involved representing the trade union movement. Speeches, marches and rallies of different kinds were organised to present the demands of women workers and men workers, and the central pillar was the defence of the interests of the working class.
In 1983 it was ten years since the start of the coup d'état in Uruguay. There was a 15-day general strike and an unforgettable May 1 rally which paved the way for democratic freedoms raising, among other things, the banner of amnesty for political prisoners. Once again the alliance between class demands and the struggle for democracy was woven.
The dictatorship in Uruguay had taken advantage of female labour because it was cheaper and lacked union experience. On the other hand, women entered the labour market gaining access to their own income and the socialisation experience allowed them to further their knowledge of their rights, so that in democracy they fought their struggles with more awareness.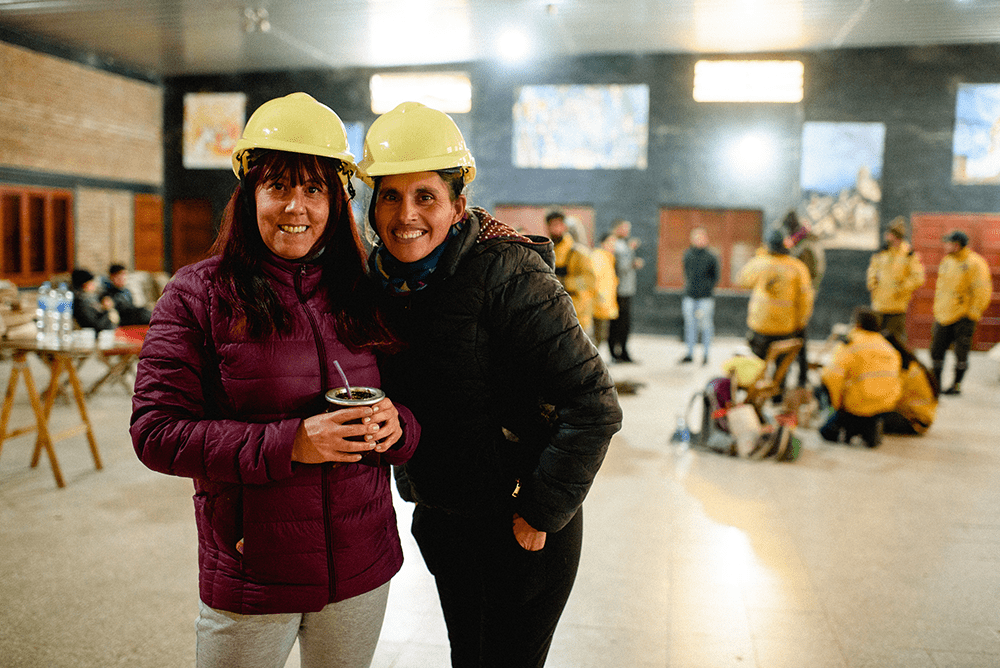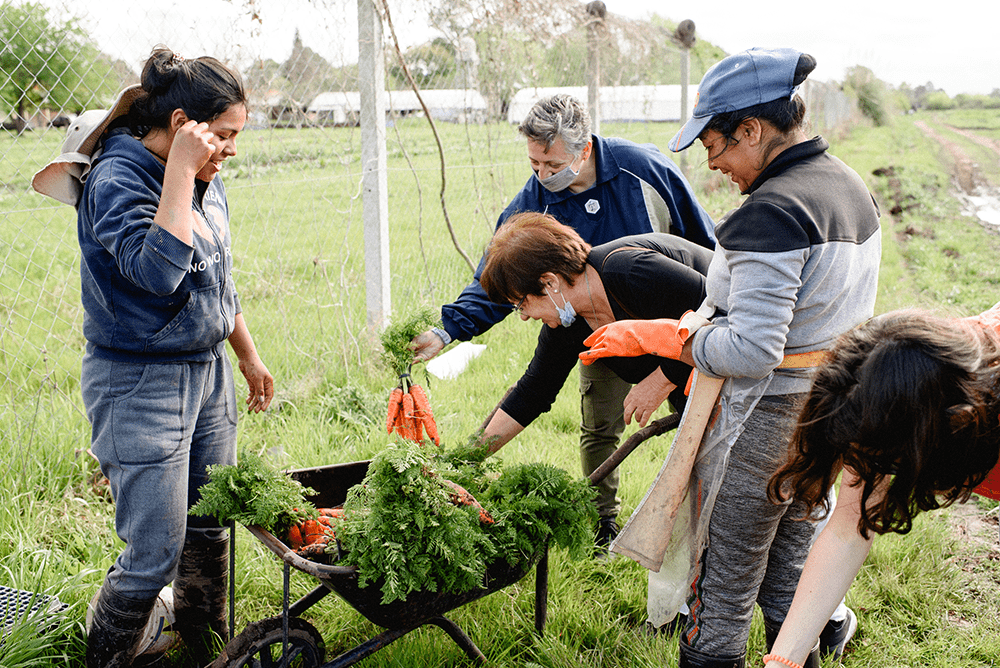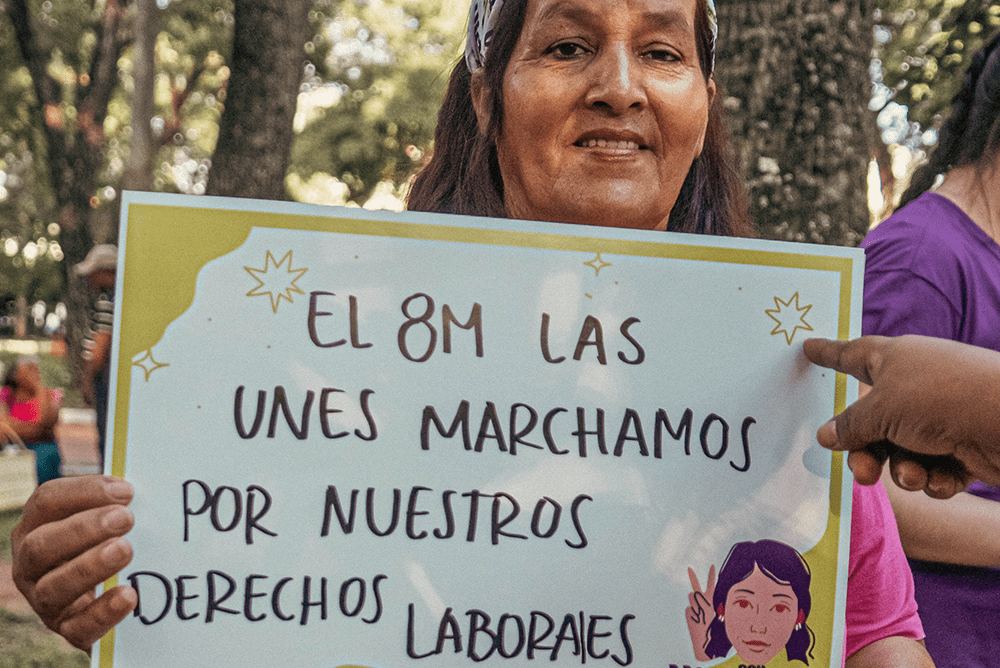 Photos: 1. Members of MULINEC (Mujeres Libres del Norte Cordobés) during a visit from the Interbrigada Sierras Chicas; 2. Members of the organisation called La Verdecita; 3. Intervention at the 8M march in Asunción, Paraguay (Photo by Milena Coral).
I recall another Labour Day a few years later in which, together with self-organised women, we managed to include our specific demands on the agenda. For the first time, I was to speak at an event in a department in the interior of Uruguay. Before going up on stage, a male colleague stopped me and asked, grabbing my arm: "What are you going to talk about? I want to know because when my wife hears you, she becomes unbearable with her complaints." There was something in his tone and gesture that made me uncomfortable but maybe I wanted to defensively believe that it was just a joke. Sometime later, when I found out that he had been reported for gender violence (at that time we called it domestic violence) I understood more fully that democracy had not been achieved everywhere and that in the world of affective relationships and organisations a structure of patriarchal power continued to predominate which affected lives in a differentiated way.
Therefore, it was not easy to bring together economic determinations and the impacts of these on people's day-to-day lives and their ways of relating to each other.
In recent decades, the labour market in our region has changed. This article aims to reflect on signs of how these changes once again affected people in a differentiated way.
It makes reference to the report presented by UN WOMEN in 2017 entitled "The Progress of Women in Latin America and the Caribbean - Transform economies to realize rights". After a period between 1990 and 2015, which is characterised by prosperity and democratic deepening, the report encourages us to think about how to avoid setbacks. Although the advances registered by women in the region over the last two decades are indisputable, gaps persist not only between women and men, but also among women themselves. The gaps between different women, from the point of view of the economic empowerment of women, is what is analysed in the report which outlines three scenarios.
The first refers to the glass ceiling and the high levels of economic empowerment with labour participation at 72 percent. These women face significant wage gaps due to discrimination and occupational segregation, as well as a greater burden of domestic and care work than their male counterparts, even when they contract care services in the market.
Another scenario refers to the sticky floor where there are low levels of economic empowerment for women with a 40 percentage point difference in access to the labour market in relation to their male peers. Within this scenario, 6 out of 10 women are mothers before the age of 19, have not completed their secondary education, have precarious employment and lack support networks or the ability to manage market resources. 40 percent do not have access to their own income. Without a doubt, as Juliana Martínez [1] points out in her wonderful classes, everything is difficult for them.
The broken rungs scenario has 58 percent female labour force participation. The "broken rungs" scenario refers to the situation where women are in the middle income quintile and may have completed secondary and tertiary education. A third of them lack their own income and do not have stable support in the organisation of care. Faced with any personal shock, such as a divorce, or a work related disruption, such as a job that requires them to work Saturdays, or a macroeconomic situation, such as a crisis, these women fall; hence the reference to the broken rungs on the ladder.
These three scenarios share the narrow and unequal relationship between paid and unpaid work, as well as the inflexibility of male caregiving time: men spend very little time on care tasks, regardless of any factor.
In relation to care, the reality is that everybody at some point needs care from others. Yayo Herrero[2] spoke to us during her time in Uruguay in 2022 about how we are eco and interdependent - we need water, food and care - and how being dependent is a feature of life.
The issue is how activities, tasks and time that make life sustainable are distributed or redistributed, so that deciding who does what does not mean consolidating the intimate or domestic role for women and the public role dissociated from everyday life for men.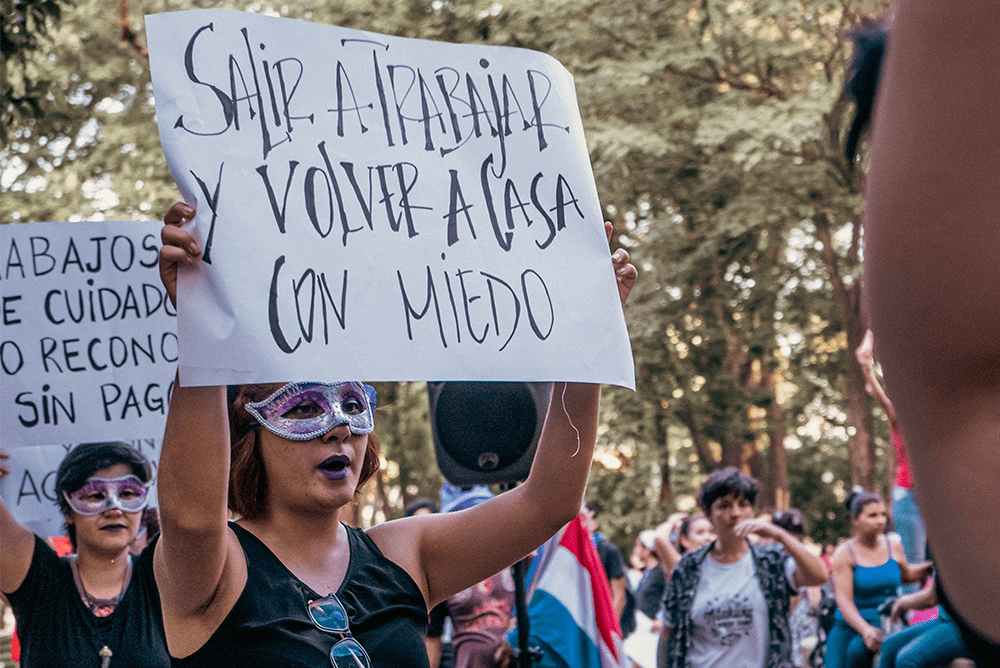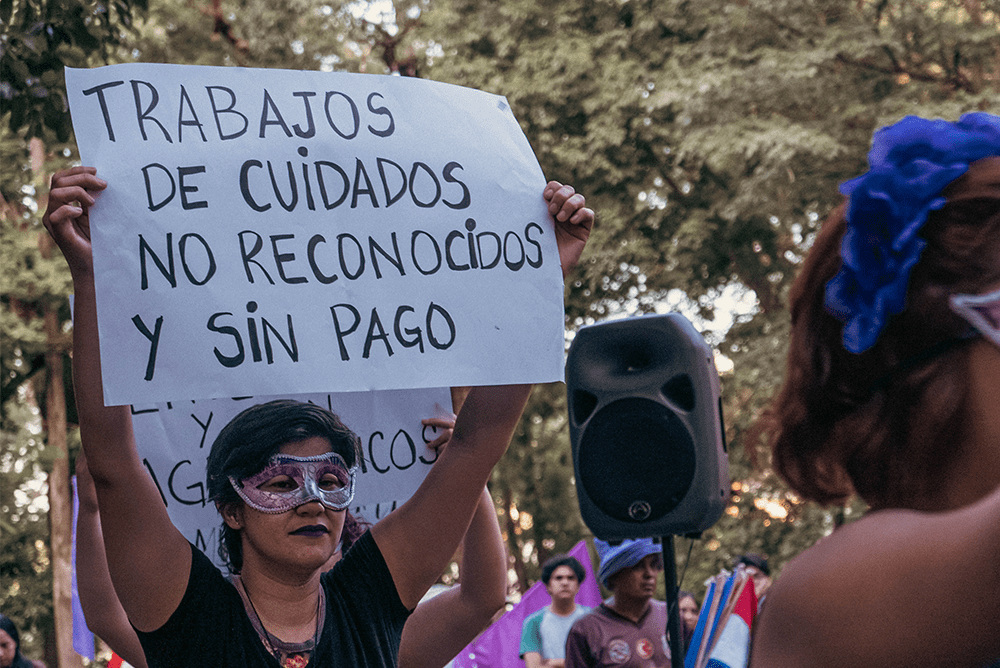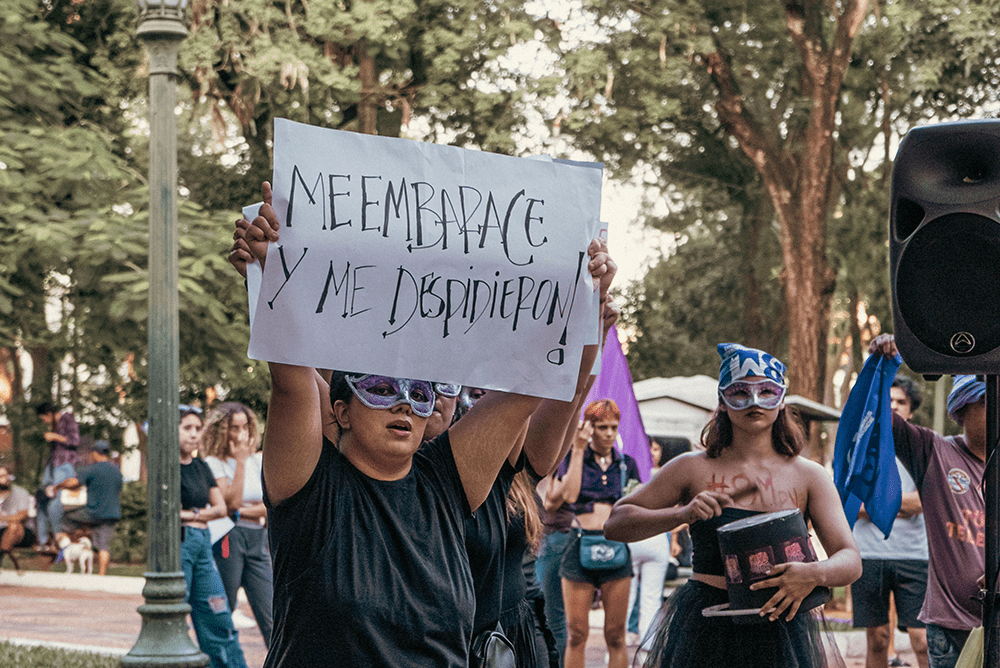 Photos: Intervention at the 8M march in Asunción, Paraguay (Photos by Milena Coral).
Beyond the different opinions on the scope of care, I agree with Miriam Wlosko (2021) who encourages us to think and recover a central idea: caring is a job. This statement goes hand in hand with how important it is to recognise that care has been historically devalued, feminised and racialised.  
As Miriam Wlosko proposes, care should be considered as an "embodied" activity in which the body is used. She calls it "carnal living", "living work". This is work that is feminised and racialised, and therefore questions social relations.
In 2018, Silvia Frederici encouraged us to think about the labour market within the framework of two assembly lines: one that produces merchandise and the other that produces workers. Whether we like it or not, this is the result of an economic and political project that is supported and reproduced with the sexual division of labour as required by capitalism and the reproduction of inequalities. Furthermore, these inequalities are strongly intersected based on ethnic-racial belonging, territorial registration, age, sexual orientation and gender identities that are intertwined just as the intersectional discrimination perspective proposes and challenges us to consider.
To remain in the labour market, women face obstacles linked to family dynamics, power asymmetries within their homes, the persistence of violence in their families and in their work places which are, as reported by studies on the impact of workplace sexual harassment, a determining factor for women leaving the labour market.
HOW IS THE WORK CONCEPT BEING REDEFINED BY FEMINIST CONTRIBUTIONS? WHAT SUBJECTS ARE BEING CONSTRUCTED?
Feminisms have problematised the concept of work, clearly establishing the complex limits and connections between productive and reproductive work. The idea of work has been expanded to begin to recognise the value of unpaid work and the use of time.
How much of this is included in the characterisation of the labour force? How do we consider class as a dynamic category that keeps changing? If care work historically and culturally assigned to women is valued as an essential part of the reproduction of life and as work, then the construction of subjects who participate in this work, could be considered as self-awareness and realising the notion of consciousness by themselves.
This will undoubtedly require struggles in the public sphere, for public policies that recognise and redistribute, but also in the private sphere - advancing towards an equal distribution of the time dedicated to unpaid work will not happen without a struggle. To this regard, the pandemic provided a reflective mirror that highlighted increased inequalities.
If care is considered embodied work, perhaps there will be a Labour Day focused on another agenda, as a result of the articulation between class struggles and feminist, student and environmental struggles.
I would now like to circle back to the unfinished song referenced in the title: "How much work for a woman to know how to end up alone and grow old." (**) I dream of the day when different songs are sung.
(*) Carmen Beramendi. Fondo de Mujeres del Sur Board Member, feminist, teacher and researcher at FLACSO Uruguay.
(**) The original title in Spanish refers to the song "Cuánto Trabajo" by Mercedes Sosa.
[1] Juliana Martínez Franzoni has a doctoral degree in sociology and she is a full professor at the University of Costa Rica (CIEP, IIS and Schools of Political Sciences) and a George Foster Awardee from the Humboldt Foundation for outstanding research careers in developing countries. Her research focuses on the comparative analysis of social policy in Latin America
[2] Yayo Herrero (Madrid) has a degree in Social and Cultural Anthropology and a diploma in Social Education and Technical Engineering. She is an activist, researcher and focuses on topics related to ecology, social economy and sustainable development.
References
Federici, S. (2018) "El patriarcado del salario: críticas feministas al marxismo (Patriarchy of the Wage)", Madrid, Ed. Traficantes de sueños.
Miriam Wlosko (Ed) Aurélie Damamme, Helena Hirata, Pasale Molinier (Coord): "El trabajo, entre lo público, lo privado y lo íntimo/ Comparaciones y desafíos internacionales del cuidado" IBSN 978-987-4937-95-7, Buenos Aires.
UN WOMEN "El Progreso de las mujeres en América Latina y el Caribe- Transformar las economías para realizar los derechos (The Progress of Women in Latin America and the Caribbean - Transform economies to realize rights)."