In 2021, Fondo de Mujeres del Sur organised political training conferences entitled "Intersectional Experiences." This cycle was designed as an opportunity to provide activists, recognised figures in the field and researchers with online training and dialogue. During the conferences, participants shared their visions during debates on where feminist and LBTIQ+ movements stand within the current political contents in Argentina, Paraguay and Uruguay.
The nine sessions—which included talks, debates, workshops and a final plenary session—were held from June to November. A total of 941 activists, all FMS partner members, signed up for the activities. Twenty-seven renowned speakers from a range of fields and movements spoke, including feminist thinkers and well-respected scholars. Advisors and team members from Fondo de Mujeres del Sur also participated.
The goal of the cycle was to address the crucial issues of today's feminist and LGBTIQ+ agendas while incorporating perspectives and topics that became particularly important during the COVID-19 pandemic. It also aimed to get participants thinking about the many struggles of the movements, offering a critical analysis of the political realities of activists across the region today.
Another goal was to strengthen and accompany organisational processes already receiving FMS support and foster an exchange of experiences, strategies and learning between the organisations.
Diverse topics related to the strategies of human rights activism and to the lives of women and LGBTIQ+ people were discussed: from feminist struggles related to the economy of caregiving to territorial discussions on violence, strategies related to rights, and environmental defence as part of ecofeminism.
In the closing plenary session, participants shared their thoughts about the meeting, lessons learned and the opportunity to understand other types of activism and reconsider them in light of experience. Specifically, participants emphasised outreach work on rights, access to different opportunities and the possibility of expanding horizons. Network building was cited as important, along with the chance to listen, formulate questions, mutually support one another, overcome the fear or speaking out and the right to bring joy into the struggle. The activists in attendance also expressed their desire that activities continue in 2022.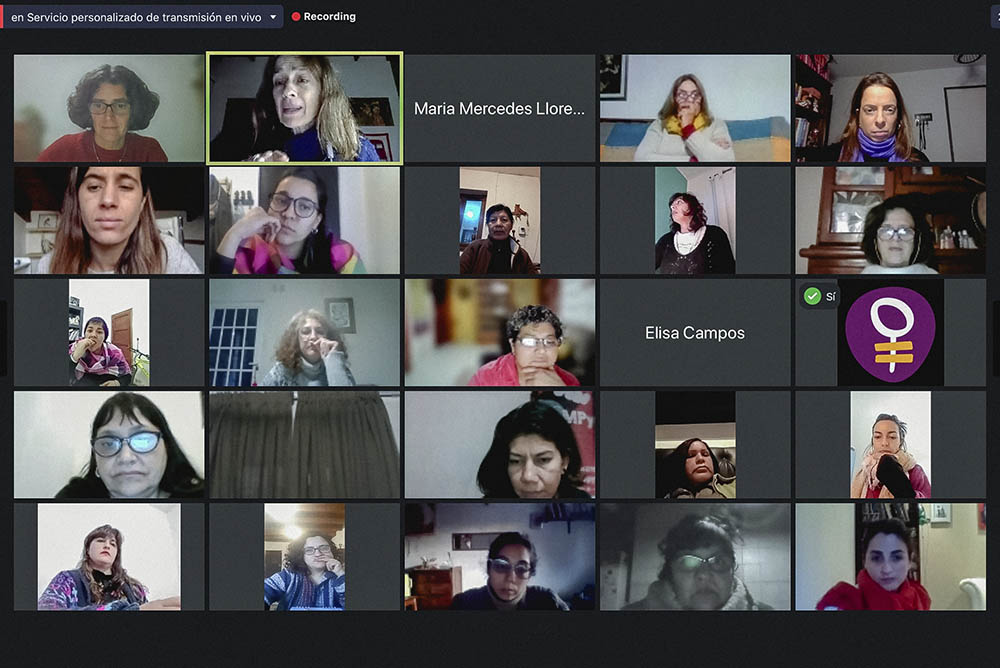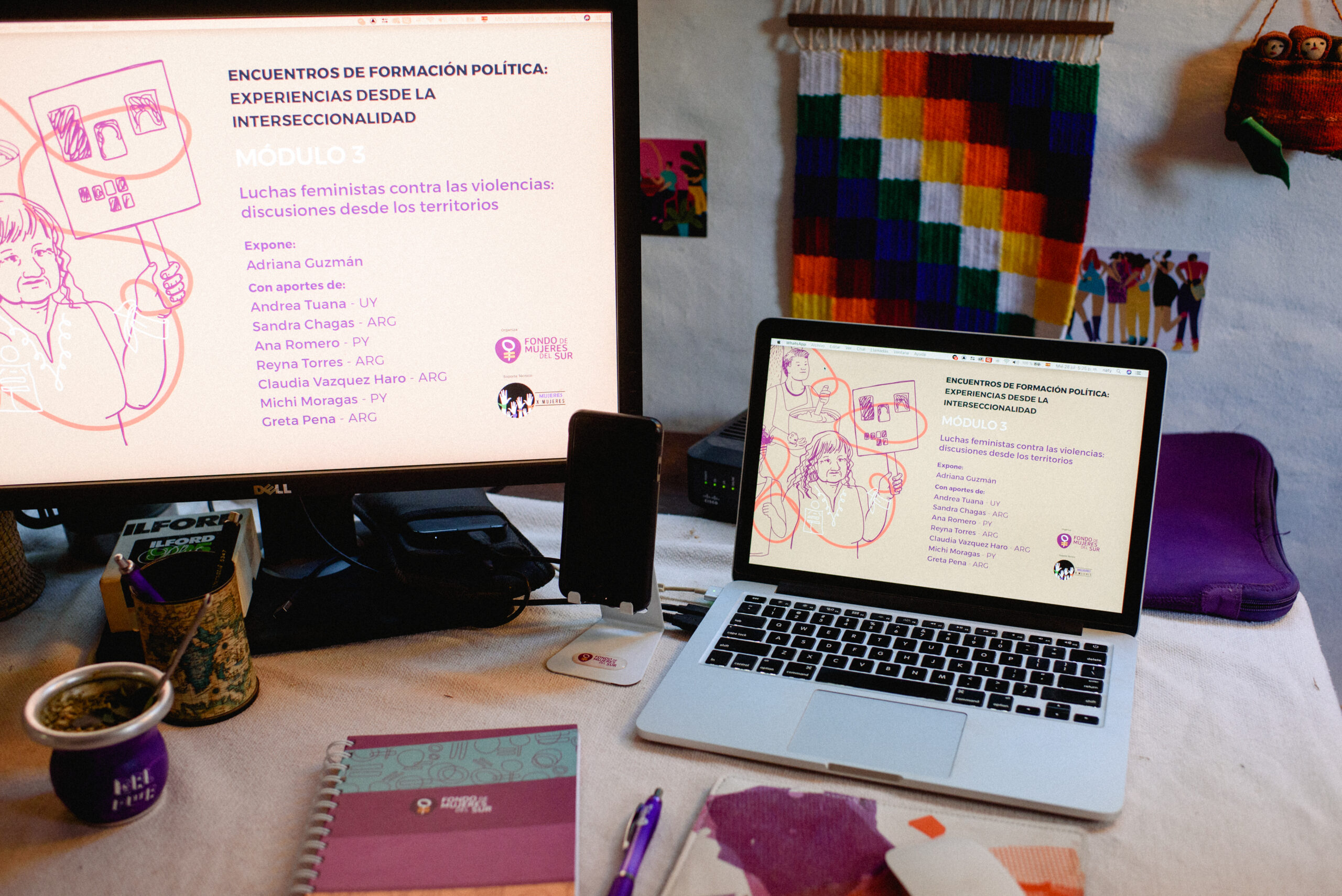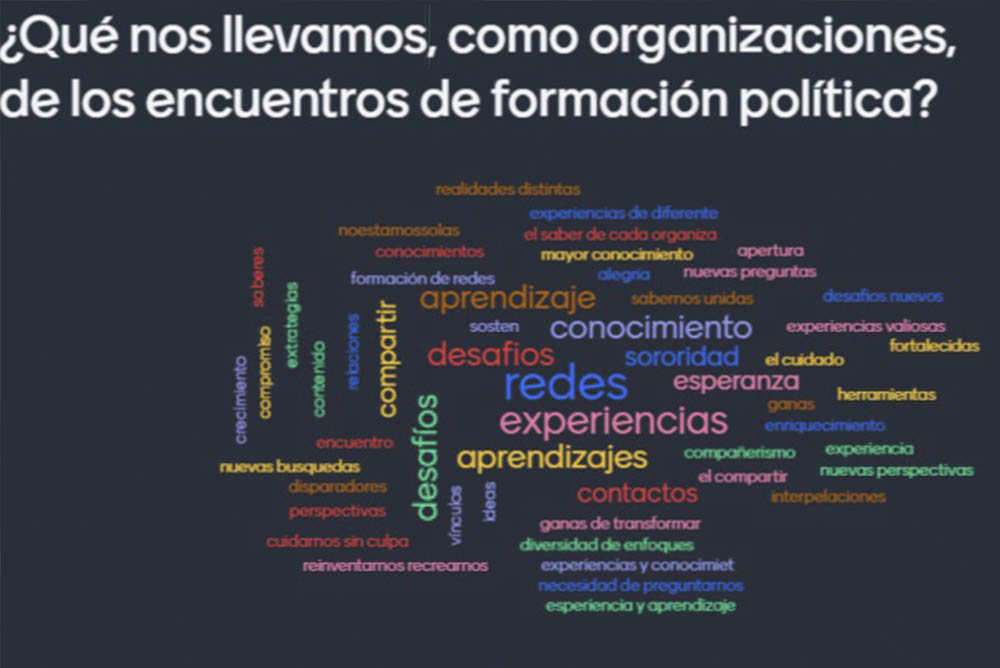 SELF-CARE AS A PRIORITY
Soon after the meetings started, the exhaustion and stress activists have been experiencing after two years of the pandemic became evident. Both individually and collectively, these women have faced difficult situation in their role as family caregivers and also in their roles as activist.
The increased burden of household tasks, the efforts to sustain support networks as part of their activism and personal experiences of illness all made the need for self-care evident.
In response, the FMS team thought about options that would make self-care an organisational policy. The question was how activists could approach self-care, given that they tend to relegate their own needs to prioritise collective struggles. A second topic of discussion was the tools that would allow activists to continue building common objectives aligned with the feminist values of sisterhood, wellbeing and respect, and how to create collective opportunities for enjoyment.
This led to the idea of the Joy in Politics Meetings, where activists were invited to come together for a different kind of gathering. These virtual meetings offered two types of proposals: the first was regular yoga, biodance and stretching classes, and the second, recreational workshops on music, writing, poetry and feminist group support.
A total of 132 women participated in the classes and workshops, including both the activists and the FMS executive team.