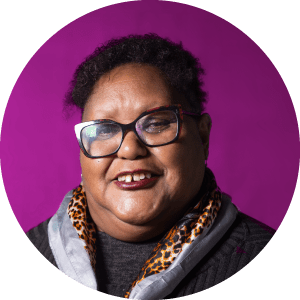 Beatriz Ramírez Abella
board member

---
Beatriz Ramírez Abella is an Afro-Uruguayan activist. For more than 50 years she has worked for the rights of people of African descent, women and people from the LGBTIQ+ collective.
She undertook the first years of a Social Services degree at the School of Social Service at Uruguay's Universidad de la República (University of the Republic) and then took gender studies courses at Grupo de Estudios sobre la Condicion de la Mujer en Uruguay (Study Group on the Status of Women in Uruguay) and on gender and ethnicity at the Geledés Instituto da Mulher Negra (Geledés Institute of Black Women) in Brazil.
In the field of activism, she founded Grupos de Jóvenes de Asociación Cultural y Social Negro (ACSUN) (Black Cultural and Social Association Youth Group) in 1973 and became a Board Member in 1989. She was co-founder of the Organización Mundo Afro (African World Organization) and in 1989 she became its Assistant Director-General.  She also established the programme called Mujeres Negras (Black Women) in 1990 and was its Executive Director until 1997. In addition, she was co-founder of the Red de Mujeres Afrolatinas y Afrocaribeñas (Network of Afro-Latin and Afro-Caribbean Women) in the Dominican Republic in 1992 and coordinator of the Southern Cone Region from 1996 to 2006.
She created the "Pirulo Albín" award, a distinction given to LGBTIQ+ people who have made a significant contribution to Afro-Uruguayan culture. In 2006, she established the "Amanda Rorra" award which celebrates women of African descent in Uruguay and the region. She was responsible for the first racial equity mechanism at a central administration level, in the Department of Afro-descendant Women of the Instituto Nacional de las Mujeres (INMUJERES) (Uruguay's National Women's Institute), an organisation she has been part of since 2005. In 2009, she applied for and was appointed Head of the Department of Afro-descendant Women of INMUJERES, taking up the position in December of that year. In 2010, she was appointed as Director of INMUJERES. During that same period, she held the Vice-Presidency of the Inter-American Commission of Women (CIM) and was on the Board of Directors of the UN Economic Commission for Latin America and the Caribbean on gender issues.
She has worked as a teacher and trainer at the national and international level on Afro-descendant and gender issues. In 1988 she was coordinator of the social project called Capitanes de la Arena (Captains of the Sand) that worked with street children. She was a Substitute Councillor on the Montevideo Departmental Board from 2000-2005, and has been a member of the Unidad Temática de Derechos de las Ciudadanas (Citizen Rights Thematic Unit) since its creation. As Councillor, she was a member of the Official Delegation to the Durban Conference (South Africa) in 2001 and to the Peace Mission to Colombia in 2002.
She has written articles on black feminism, Afro-descendant narratives, and the intersection of gender, race and sexual diversity. In 2018, she was declared a Distinguished Citizen of the Municipality of Montevideo in recognition of her contribution to the fight for equality, in particular for racial, gender, class and cultural equality.
Since 2018, she has been Director of the Human Rights Division of the National Directorate for Sociocultural Promotion of the Ministry of Social Development.
She is the mother of four daughters, a grandmother to eight grandchildren and a great-grandmother. She is known for her role in intersectional struggle and defines herself as "a fighter of all struggles."