Written by Agustina Juarez Marcos
Translated by Christina Hamilton
The feminist collective called Las Hilando presents Juntxs en aventura (Exploring Together) - a game for everyone to have fun and promote the rights of the child.
On a corner in the neighbourhood called Maldonado, to the east of Cordoba City, there are chairs arranged in the middle of the street. The party decorations are already up and the music begins to play. Ivana and Pam are running the workshop and they are in charge of providing the instructions to play. They take over and grab the microphone. The fun begins!

For the next hour, girls and boys will play the game with questions and answers. Some involve moving their bodies, others require some imagination. "If you had magical powers, what would they be?" Pam asks one of the participants. "I would choose to be invisible," replies a child from the audience. The gameboard is opened further and new participants join each square.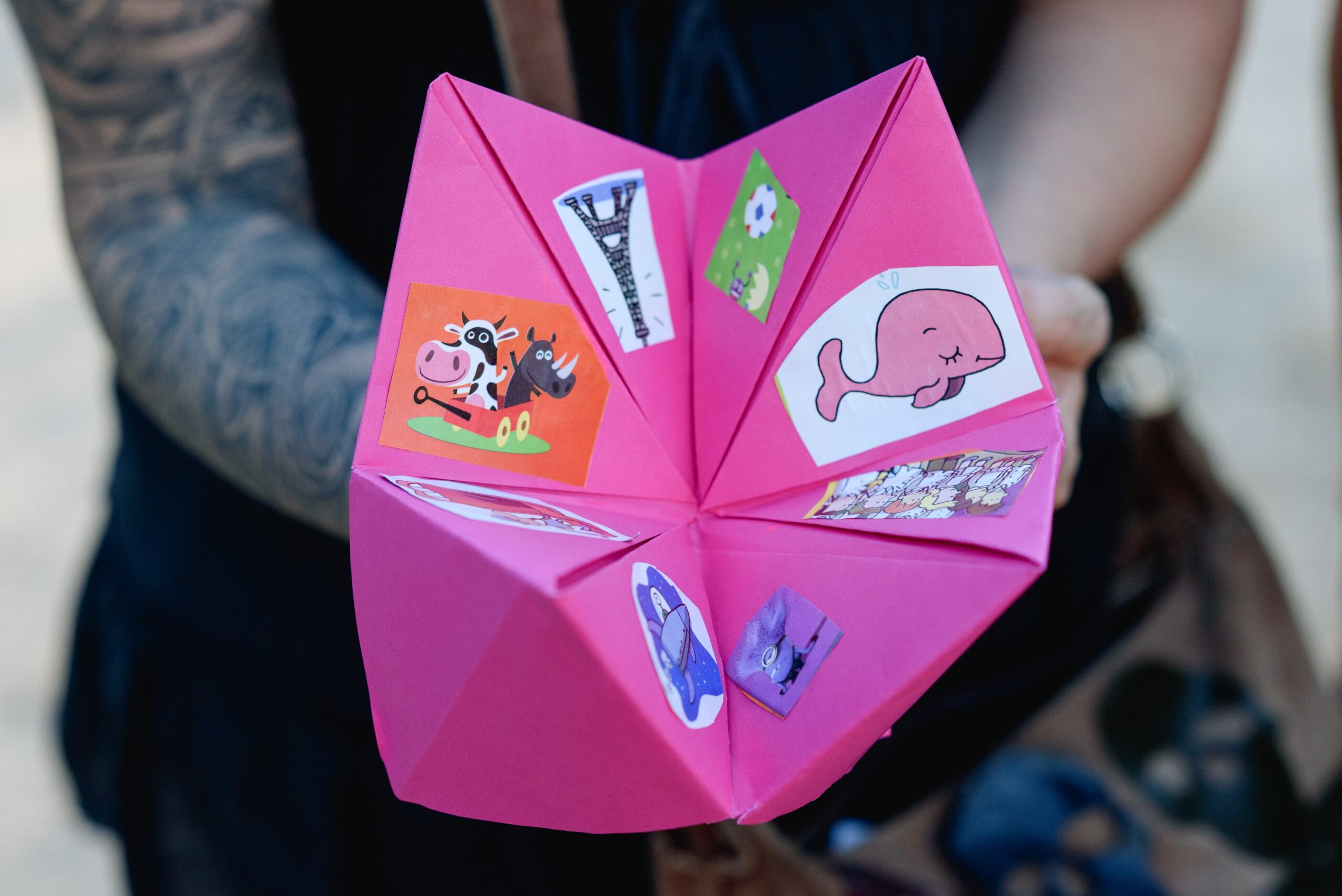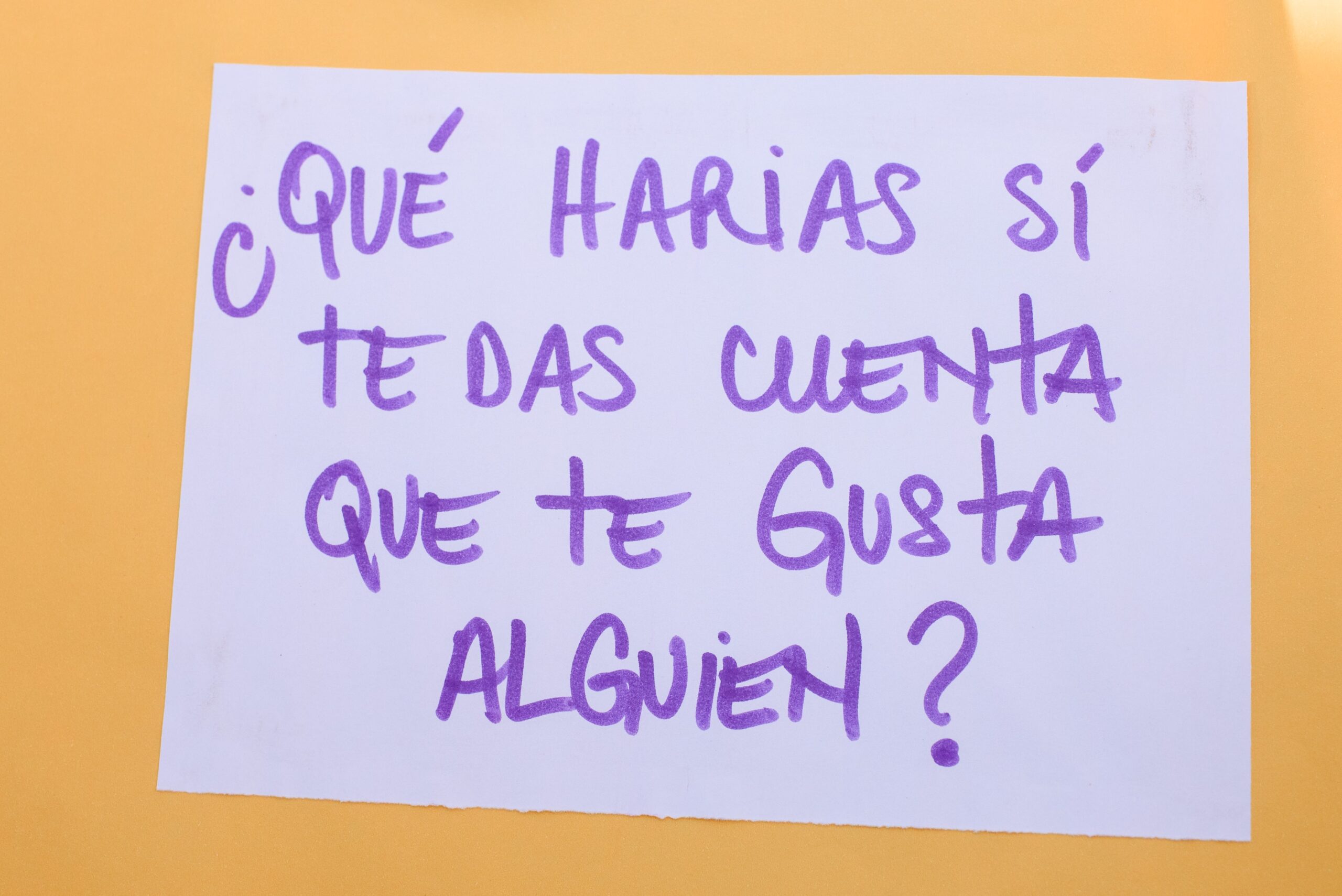 Juntxs en aventura was designed based on an interest to generate playful material that promotes dialogue with children and young people. It was made by members of Las Hilando together with other activists, teachers, researchers and professionals with training in comprehensive sexual education and human rights.
"The questions and instructions invite participants to think about their role at home, what they do when things happen, who they are with, who provides them with support. They invite participants to discover more about themselves. For us it is part of our commitment to ensure childhoods are fun, poetic and playful", says Noelia, a member of Las Hilando.
They leave 200 pieces for the game, including a gameboard, counters and a scoreboard with the organisation called Libres y en Lucha (Free and Fighting), which is based in Maldonado, so that other children can play at home.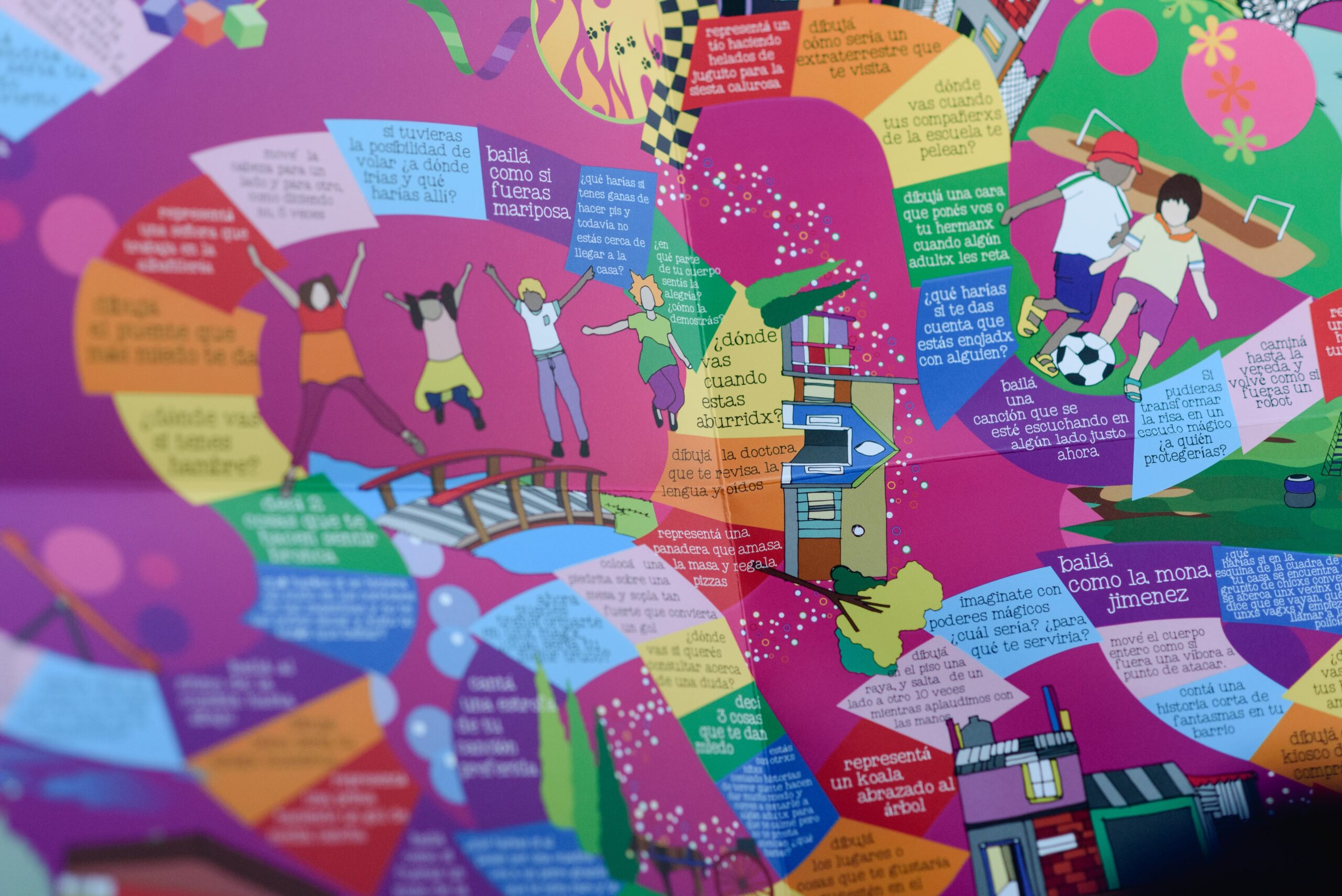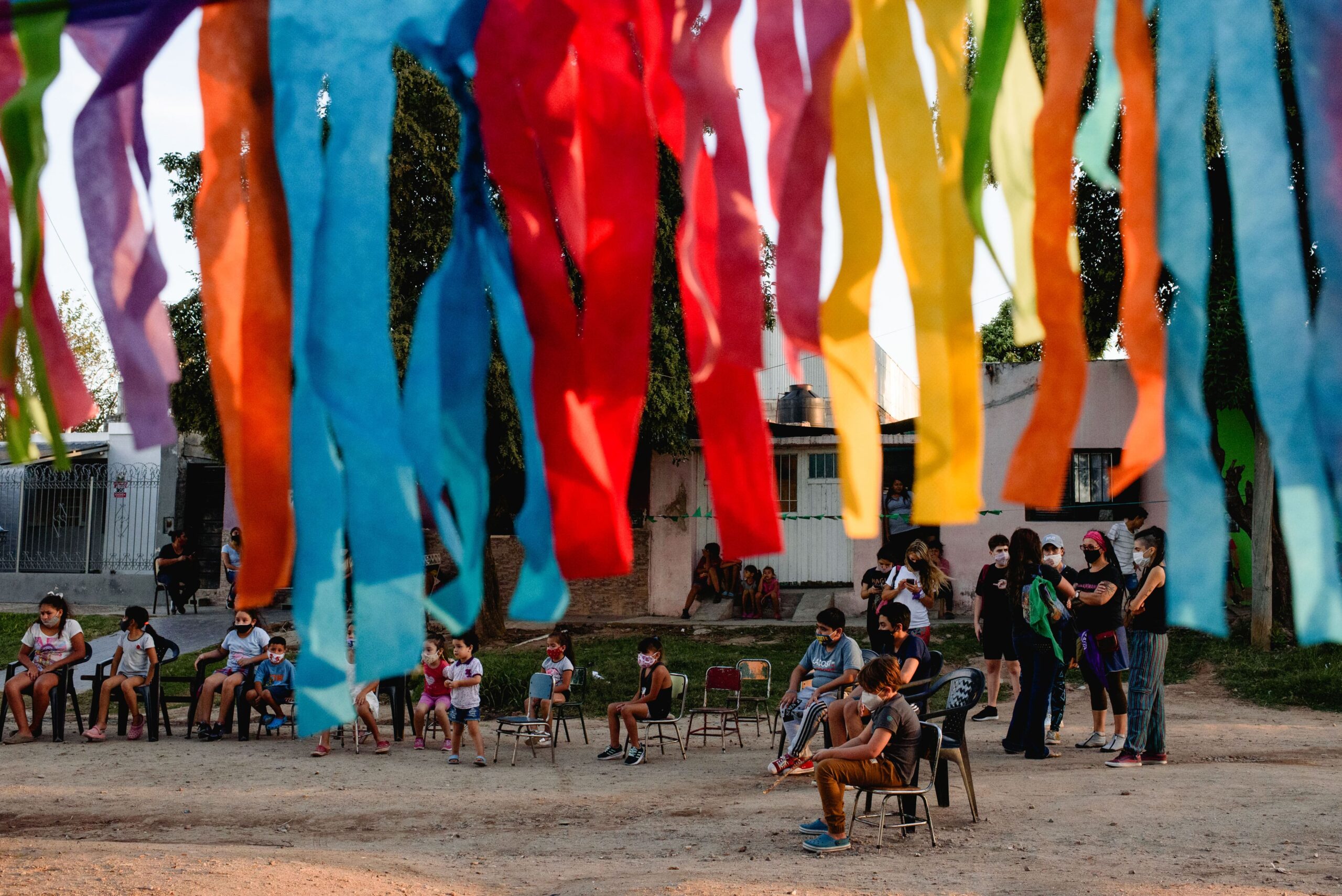 Building a feminist world
The feminist collective Las Hilando was formed in 2001 by a group of women from different professions and jobs who were interested in the connections between activism, art and education. Artivism, as they define it, makes them stand out amongst organisations promoting the sexual and (non) reproductive rights of women and other people with the capacity to gestate.
In almost ten years, they have established alliances with feminist networks, universities and organisations working on a local level which have allowed Las Hilando to diversify their work and dialogue with different audiences. Their participation in national articulation spaces has strengthened their approach to comprehensive sexual education.
In August 2020, for Children's Day, Las Hilando organised once again the campaign En un mundo justo las niñas no son madres (In a just world, girls are not mothers), hich was run for the first time in 2019¹. This time, they designed posters for public spaces with different slogans to promote the rights of the child in the city of Cordoba: "These are things that happen to me", "These are my desires, things that I enjoy and things that make me uncomfortable: Listen to me, believe me, stand with me!", "They are not just whims, or tantrums, it is not just an outburst: I create, I experiment, I grow, I ask myself questions".
"We don't think that we will stop running the En un mundo justo las niñas no son madres campaign", says Laura, a member of Las Hilando, "we ran it again in 2020 and we will continue to do so because we need to keep this on the agenda, until it becomes a reality".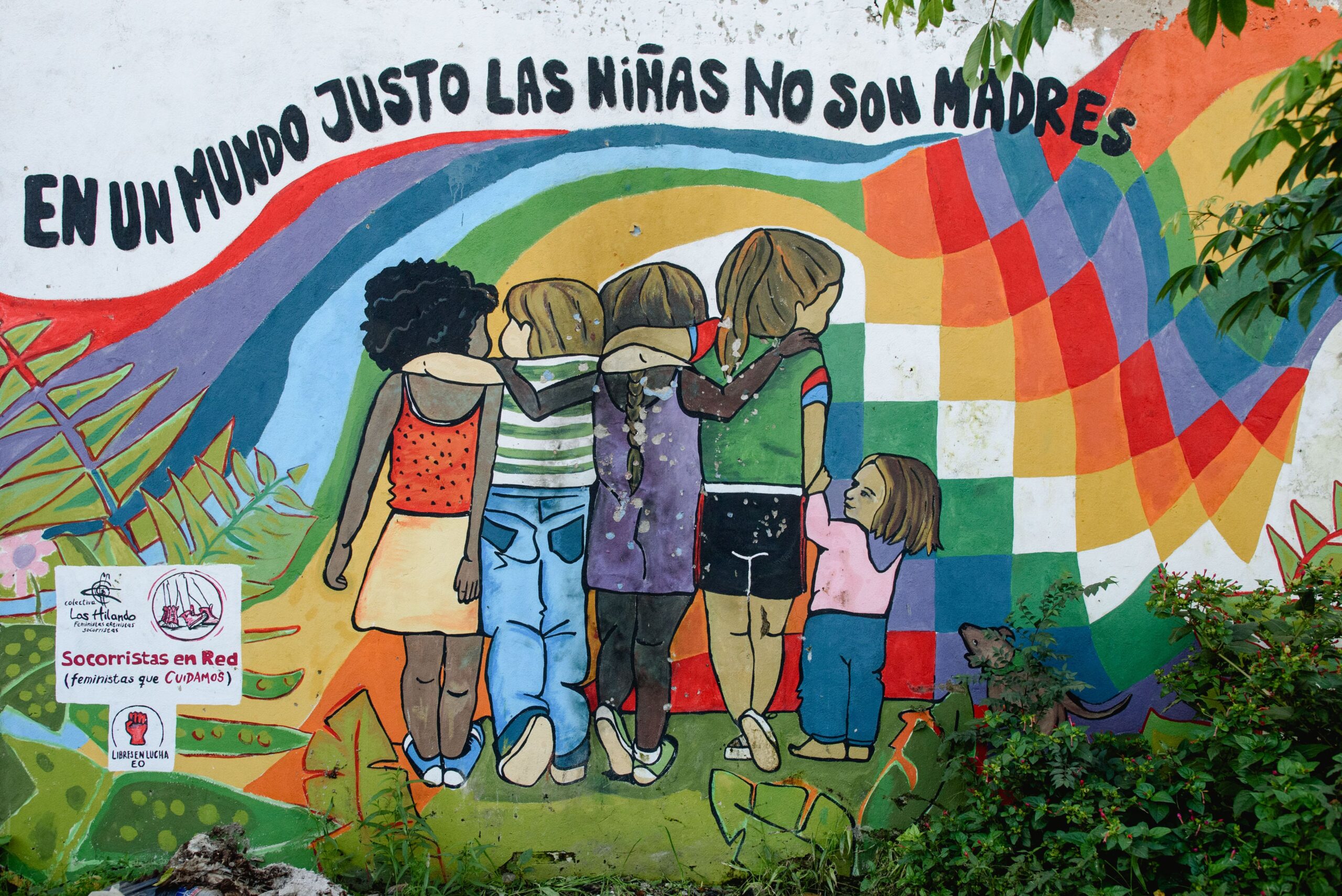 The reality behind the slogan
In Argentina, during 2019, 1,938 girls under the age of 15 became mothers, according to the Vital Statistics Report by the Ministry of Health². Pregnancy in young people represents one of the main reasons for dropping out of school³.
In the pandemic context, inequalities have deepened and barriers to accessing sexual and (non) reproductive rights have multiplied. Las Hilando started questioning these barriers which led to the creation of material to dialogue with children and adolescents. That is how Juntxs en Aventura came about.
"That was the springboard for us", says Noelia and she adds that "thinking about sexual and reproductive rights from the point of view of childhood, understanding those childhoods when there are unwanted pregnancies, intrafamily violence, is to think about it from the feminist perspective we promote and believe in".
It is almost night in the neighbourhood. A girl reaches the last square on the gameboard and the afternoon of fun comes to a close. Pam and Ivana, who hosted the event, say goodbye with applause from the group. Las Hilando take down the decorations, stack the chairs and, then finally, put away the banner with the unforgettable slogan: En un mundo justo las niñas no son madres (In a just world, girls are not mothers).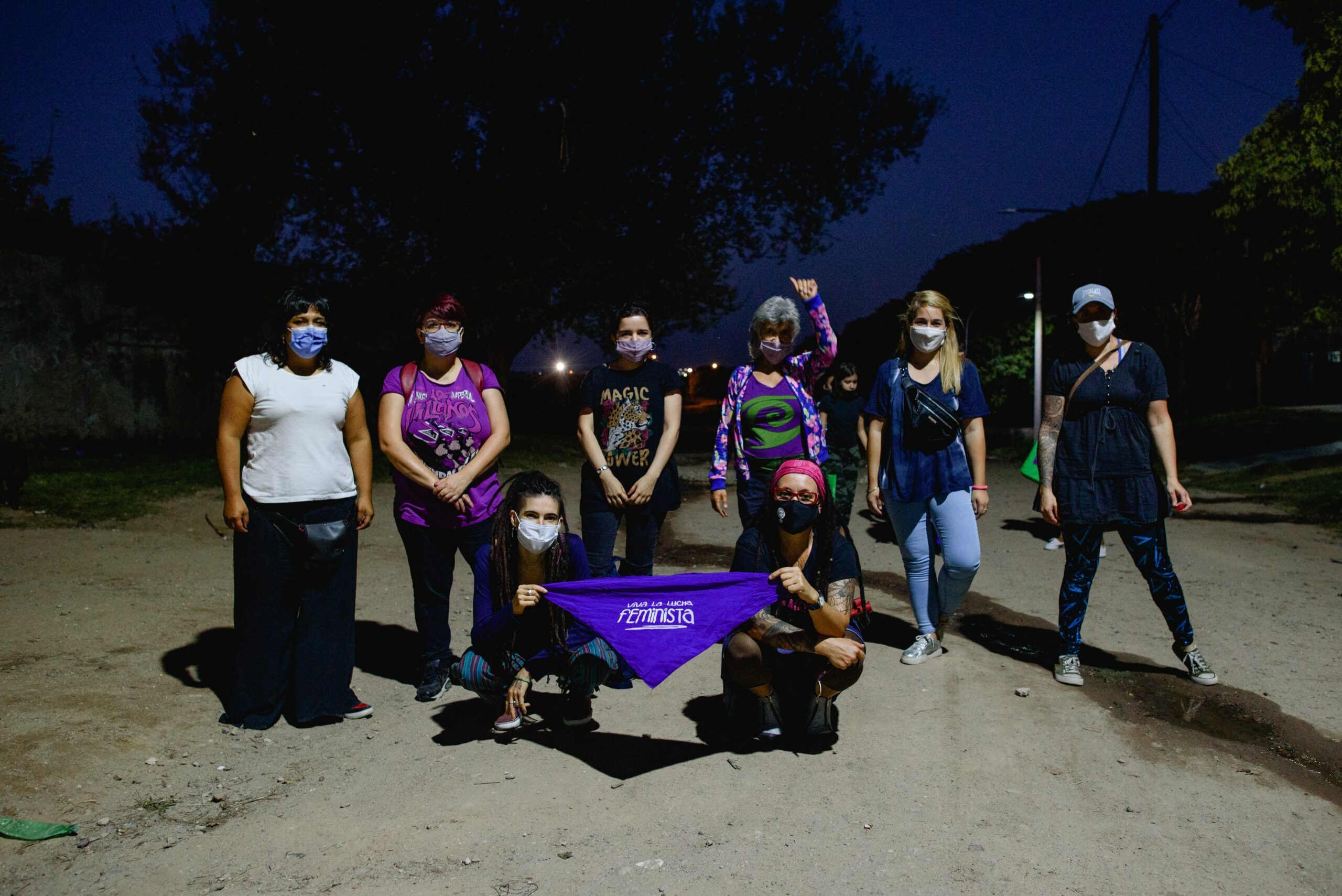 ¹ The campaign called En un mundo justo las niñas no son madres (In a just world, girls are not mothers) has been led by Socorristas en Red since 2019.
² Informe de Estadísticas Vitales del Ministerio de Salud, Argentina (Vital Statistics Report by the Ministry of Health) (Only available in Spanish) https://www.argentina.gob.ar/sites/default/files/serie5numero63.pdf
³ "Maternidades y paternidades adolescentes (Adolescent Maternities and Paternities)" UNICEF Report (Only available in Spanish) https://www.unicef.org/argentina/media/526/file