The organisation called Alerta Torta (Córdoba, Argentina) established places and spaces for lesbian activism such as public assemblies and the Tortazo event in February 2022. On International LGBTIQ+ Pride Day, we want to share Alerta Torta's story.
Written in Spanish by Agustina Juárez Marcos
Translated into English by Christina Hamilton
Lesbian Visibility Day is on March 7 in Argentina. Every year, in the city of Córdoba, the place to be is Intendencia Square. In the city centre, activists organise an event with bands, speeches and markets. In 2018, interest in organising the event multiplied.
A few months earlier, in November 2017, Marian Gómez had been arrested for kissing her girlfriend at a train station in the city of Buenos Aires. In different parts of the country, old and young activists rallied together to demand her acquittal.
In June 2019, developments from the case were released. The judge presiding over the case sentenced Marian to a one-year suspended prison sentence for allegedly resisting arrest and assaulting police officers who detained her that day. The sentence was passed on June 28, which is International LGBTIQ+ Pride Day and was also the 50th anniversary of the Stonewall Riots.
On June 28 each year, worldwide we commemorate how a group of trans, gay and lesbian people in New York city resisted police arbitrariness that undermined their rights. On this day in 2019, a group of activists in Córdoba decided to start the organisation called Alerta Torta to work on policies by and for lesbian identities.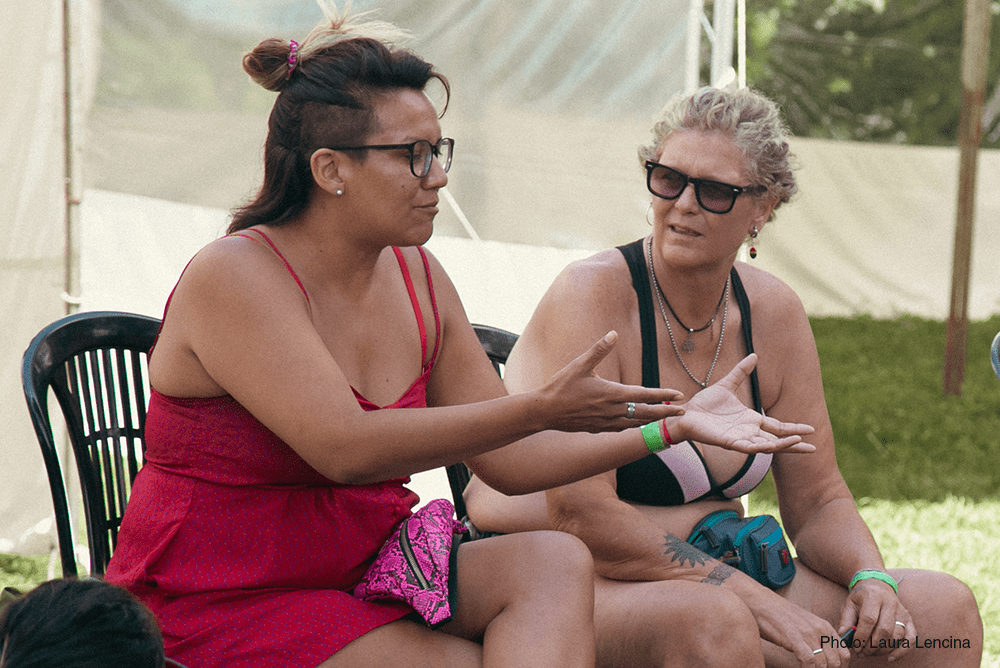 "Giving a voice to our identities"
The organisation brings together activists with different experiences, from different backgrounds and generations as well as human rights and diversity activists and activists from political parties. The shared focal point was the proposal to establish an agenda that would concentrate on the particularities of the life of lesbians and lesbian identities.
Deciding on a name, establishing a physical representation according to self-perceptions and expressing oneself are central aspects to broadening political participation. Our meetings are part of a commitment to generate open spaces, free of prejudice and all kinds of violence. "The way we connect and relate to each other and how the collective is constructed is a central axis for us," says Cecilia, a member of the organisation.
One of the organisation's initial ideas was to hold a face-to-face gathering to bring together lesbian activists from all over the country. Alerta Torta took on the challenge to organise the event. They decided on the name Tortazo: Encuentro de Identidades Lesbicxs (Tortazo: Meeting of Lesbian Identities) *.
"Identity is something that is always transforming, evolving. It is in the encounter with others that this happens. And that is what we want to stand for, the idea that identity can be as diverse as each person and can differ just as each body differs", adds Milagros.
The proposed date for the event was March 2020, but the pandemic forced it to be postponed. Instead, Alerta Torta decided to maintain the networks that the Tortazo began to weave in Córdoba and throughout the country.
Strengthen networks during the pandemic
"With the succession of meetings, commonly occurring situations were identified and we understood they required our own approach," they say from the organisation. One of these issues was the violences between lesbian identities.
Through the Cuarentorta** project, Alerta Torta created spaces for support based on a human rights approach, ensuring care and respect towards the various identities and their experiences. Thus, they were able to address situations in the pandemic context that deepened violences within homes.
The initiative was supported by Fondo de Mujeres del Sur and allowed the organisation to make alliances with professionals and activists in mental health. It also allowed the organisation to carry out activities to remain in contact with activists from Córdoba and people from different parts of the country joined as well.
The return to face-to-face activities meant Alerta Torta could return to the streets and with strengthened activist networks. The organisation started having meetings again and Tortazo was on the agenda once more.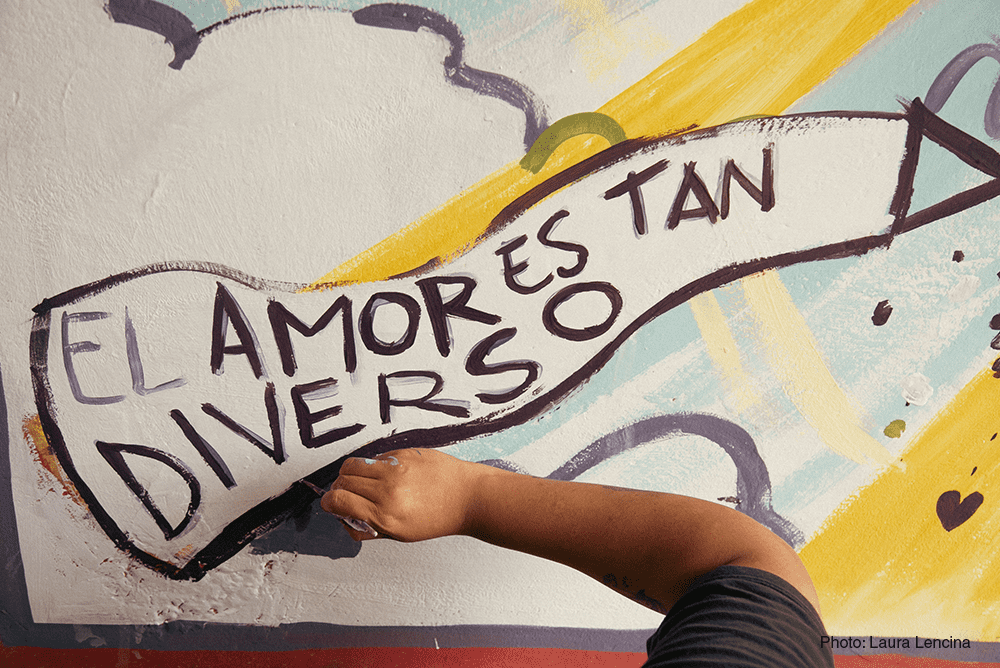 We gather to celebrate us
On February 26 and 27, more than 300 people met in La Bolsa, a town located in the mountains of Córdoba. For those two days, the river and mountains were also a space for celebrating and resting between the workshops that broke up the day.
The proposed focus areas included access to health and justice, forms of violence, education, culture, communication. Tortazo brought to light different aspects of the lives of lesbians and lesbian identities from different parts of the country, creating a map of the main demands and particularities that access to rights acquires in each location¹.
Each workshop was named in honour of a renowned lesbian activist. The sports and rights workshop was named after Higui de Jesús, who attended the event.
Higui's name had become well known in recent years. In 2016, she was attacked by a group of men who harassed her for her gender expression in a neighbourhood in the province of Buenos Aires. During the attack, she defended herself and fatally wounded one of them. She was imprisoned, and then released on probation until the time of trial. In March 2022, after years of struggle sustained by lesbian activism, she was acquitted.
"In this process we see many things reflected, reasons why we organise ourselves so that they do not happen again," says Leticia. "We all feel a bit like Higui in our experiences. We need to repair that after her acquittal", adds Cecilia.
Cases like Higui's, Marian's, Pepa Gaitán's, who was murdered in 2010 by her girlfriend's stepfather in Córdoba, left their marks. The networks and activisms are where other stories are told2.
For Alerta Torta, building a plural and federal agenda means giving visibility to the experiences of lesbians and lesbian identities such as motherhood, old age, housing vulnerability or job insecurity. As well as considering access to housing, work, healthcare and culture as central axes to establishing a more inclusive agenda. "Federalism has to do with all voices being heard and all experiences being recognised," summarises Cecilia.
The multiplicity of experiences, voices and stories make up the history of lesbian activism. They belong to different generations, to different locations. Reclaiming the memory, sharing it and making it collective is part of the new Alerta Torta challenge.
This story will also be told
What was it like to be a lesbian or a lesbian identity in the 70s? In the 80s? How did their lives unfold? Where? With whom? "Records related to the history of lesbian identities are very brief. There is a void around what our lives were like before 2010 (when the Equal Marriage Law was passed)", they say from the organisation.
Giving visibility to dialogues and stories, images and memories; fragments of the oral and written memory that identifies lesbian identities throughout history was a shared request at the Tortazo workshops.
The initiative works in conjunction with proposals such as the Archivo de la Memoria Trans³, which through photographs and documents recovers the stories of trans people and transvestites from Argentina, and Potencia Tortillera⁴, which keeps records of activities, positions and documents from lesbian organisations over the last ten years in Argentina.
"Each story should be told: the stories from the capitals and stories from the towns, those that were told to us directly or those we heard through testimonies; the stories of those who were activists, could get married, march for pride, and those for whom the rainbow came late. It is a political commitment with future generations", they affirm. That is the challenge.
¹ To learn more about the Tortazo, the meeting of lesbian identities, read this report: https://agenciapresentes.org/2022/03/01/tortazo-en-cordoba-dos-dias-de-camping-debates-y-baile-entre-identidades-lesbicas/
² Natalia Pepa Gaitán was murdered on March 7, 2010 by her girlfriend's stepfather, in a peripheral neighbourhood of the city of Córdoba. It was the first case in Argentina that was known as a hate crime against a lesbian, because of her sexual orientation and gender expression. In tribute, Lesbian Visibility Day is commemorated on March 7. To find out more: https://latfem.org/del-lesbicidio-al-tortazo-10-anos-del-asesinato-de-la-pepa-gaitan/
³ Archivo del Memoria Trans website:  https://archivotrans.ar/
⁴ Potencia Tortillera Blog: https://potenciatortillera.blogspot.com/
*The name Tortazo makes reference to the slang word in Argentina for lesbian, torta, and the particular suffix used in Cordoba, -azo, to form an augmentative expressing greatness or size.
**The name of the project implemented during the pandemic refers to the lockdown which is cuarentena in Spanish.