On June 24, 2021, Argentina's Congress passed the Transgender Labor Quota/Integration Act, also known as the Diana Sacayán-Lohana Act. Claudia Vásquez Haro, one of the activists who contributed to this milestone in Argentine democracy, agreed to share her thoughts on this process with us. "Our movement has demanded to participate in our country's emotional agenda," says Vásquez, who recounts the efforts to get the law passed and what it means for the transgender and travesti population and for society as a whole.
The passage of the Diana Sacayán-Lohana Transgender Labor Quota/Integration Act invites us to reflect on the law's impact on how the transgender and travesti collective in Argentina is organized. New strategic alliances and pending challenges on the movement's agenda are two other topics to consider.
This legislation will ensure that trans people access formal employment free from discrimination, planning their lives with the same freedom as any citizen. In other words, it will restore our dignity and put an end to the exclusion and criminalization we have long suffered on the part of both the state and a great part of civil society.
At the same time, it will have an impact on us both individually and collectively. It will also contribute to the cultural transformation of a society that has historically associated transgender and travesti people with prostitution and confined us to places of extreme vulnerability. However, we refused to remain merely victims: we overcame through organization, action and struggles, becoming political subjects in the process.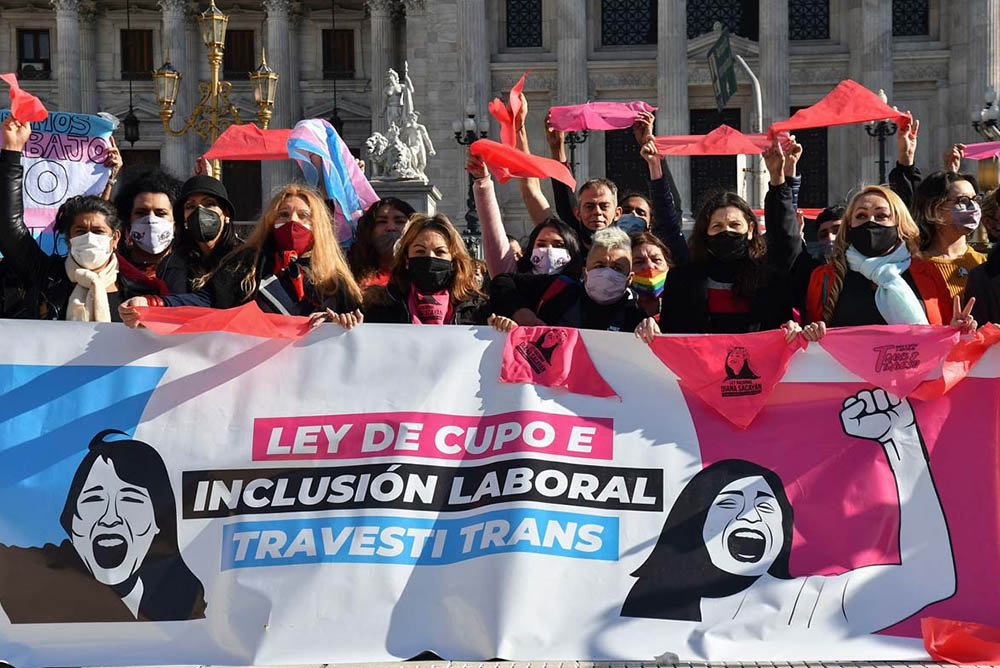 Photograph: courtesy of Claudia Vásquez Haro
I was at the Senate to witness the debate of the bill. Only ten of us were granted access to this portentous session due to COVID-19 restrictions. None of us there had ever imagined that the high heels of transgender and travesti women, so often relegated to the margins of society, would one day click across the floors of Argentina's Senate.
There we were, in those revered halls where decisions that change the country's course are made. Once again, we were taking the reins of history—even writing our own!—pushing patriarchal and heteronormative limits. And in this process, we were expanding the meaning of citizenship.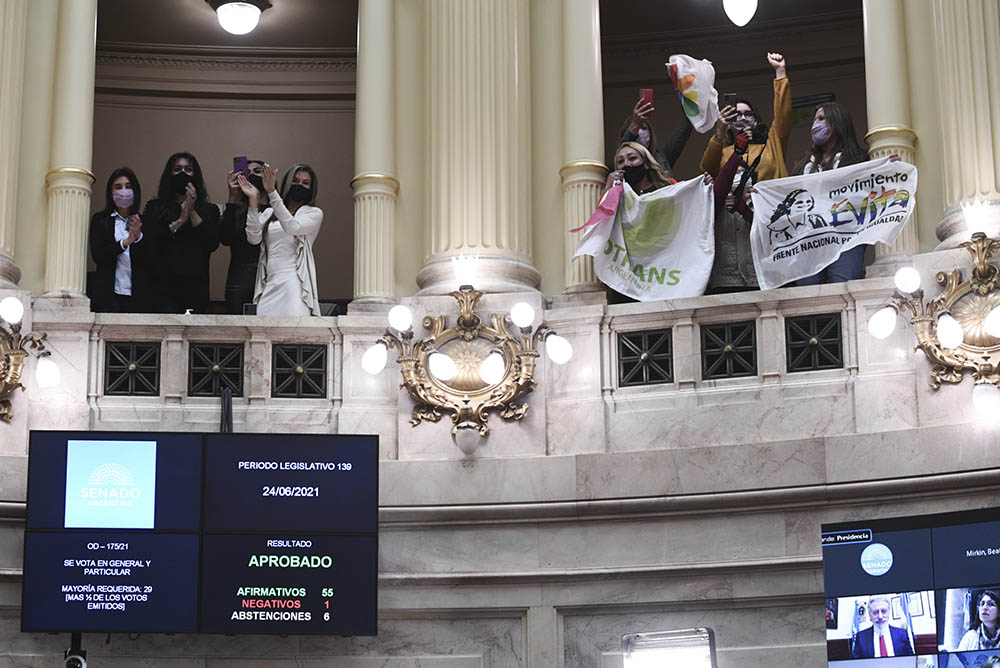 Photograph: Luciano Ingaramo for the Argentine Senate
That day, memories of trans activists who fought from the beginning but are no longer with us came to mind. I heard the senators mention the names of two trans women, Lohana Berkins and Diana Sacayán. This wasn't just a symbolic nod to the transgender and travesti struggle and activism in our country: the law that bears their names has immortalized them.
We know that when something is named, it materializes. For that reason, one of the challenges of our movement was to ensure the name of this law was the Diana Sacayán-Lohana Berkins Act. This allows us to keep our memory alive, encouraging citizens to ask who these activists were and the role they played in fighting for our rights. In order for future transgender, travesti and non-binary generations to know that this milestone didn't come out of nowhere, it is essential to learn about our history and how our leaders helped build and consolidate our movement.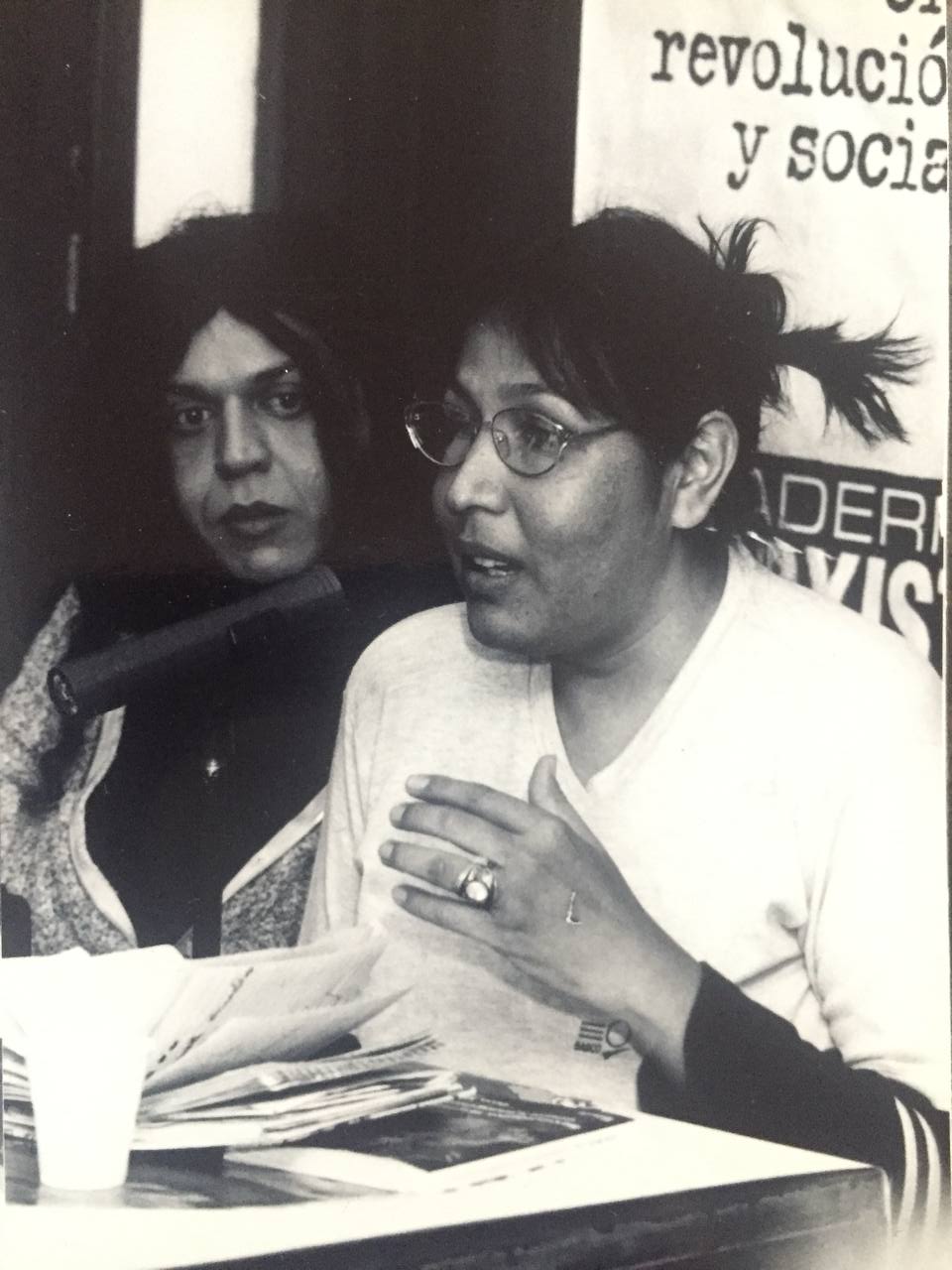 Marlene Wayar and Lohana Berkins. Archive image courtesy of Natalia Roca
Coalicionar con otres
In 2012, we began writing a new chapter in our history with the passage of the Gender Identity Act. This new law, significant at both the political and symbolic levels, marked a turning point for our collective. It helped us lay out the priorities for an agenda that included guarantees for equal access to formal employment. Diana Sacayán's work on the Employment Quota Act and its passage in Buenos Aires province in 2015 served as a guide.
This collective learning experience led to bills on employment quotas and inclusion in other provincial and municipal legislatures across the country and their subsequent passage. Presidential decree 720/2020 on a transgender/travesti labor employment quota in the public sector was another precedent, helping us build consensus and lobby for a new national law that would apply to both the public and private sectors.
This led to our work on the Lohana Berkins bill for formal labor inclusion, working with the Liga LGBTIQ+ de las Provincias (LGBTIQ+ League of the Interior) and the Convocatoria Federal Trans y Travesti Argentina (Federal Transgender and Travesti Confederation of Argentina, CFTTA). We lobbied unsuccessfully to get the bill on the floor of the House on two occasions, in 2016 and 2018. In both cases, the bill was presented by the congressperson for Frente de Todos party Gabriela Estevez. In 2020, the bill finally made it to the House floor.
The alliance working to ensure the passage of the law included Frente Orgullo y Lucha (the Pride and Struggle Front, an organization that drafted the Diana Sacayán Employment Quota Act), the CFTTA, the Liga LGBTIQ+ de las Provincias and over 250 organizations nationwide. As part of the alliance, the two bills were merged and an agreement was reached to talk about transgender/travesti employment "quotas" and "inclusion." There is nothing contradictory about combining these two topics because "quotas" suggest a policy to ensure quantity and "inclusion" covers access, entry and protection against unfair dismissal.
Additionally, while the "quota" bill was only focused on helping trans people access employment, the "inclusion" bill went a step further by including not only the public sector but also private sector tax incentives for the hiring of trans people.
During the first meeting with the House's Women, Gender and Diversity Committee, the decision was made for the three largest coalitions to join forces to draft a single bill. Besides being named for both Diana and Lohana, it included articles on "professional suitability," criminal records and non-mutually exclusive factors in the implementation of the regulations, among other issues.
Then a national campaign was launched to increase awareness of the Diana Sacayán and Lohana Berkins Act on Employment Quotas and Inclusion and ensure public pressure on Congress to bring the bill to the floor. During the pandemic, we held virtual town halls that brought in around 100 transgender people and travestis across the country, among other political and communication strategies.
For this reason, we can say that right from the start, there was grassroots consensus on this law, which accurately represents our voices and demands. The passage of this law can be attributed to the work of the transgender-travesti collective in Argentina and to the support of the administration of President Alberto Fernandez and Vice-President Cristina Fernandez de Kirchner.
Though we made history yet again, goals remain on our agenda: there are struggles yet to be won. Reparations for transgender people and travestis over age 40, who were subject to systematic human rights abuses and survived what we consider the trans genocide, is one of those goals. In addition, our movement demands to be part of our country's emotional agenda: our deaths should motivate society not only to mourn but also to take action.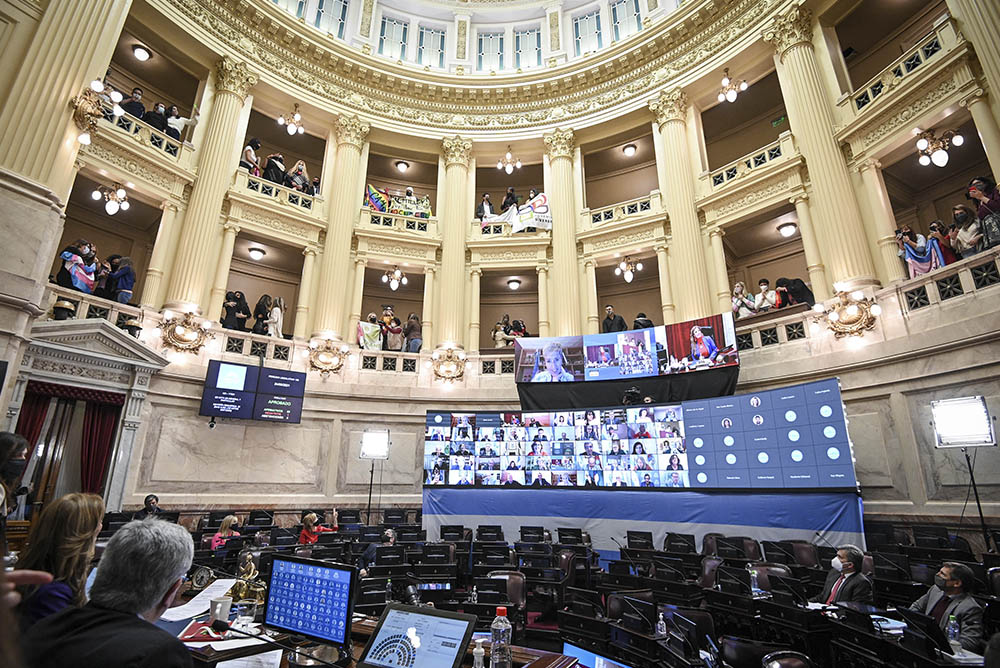 Photograph: Charly Díaz Azcué for the Senate
* Claudia Vásquez Haro holds a doctorate in social communications. She is a professor and researcher at the School of Journalism and Social Communication at Universidad Nacional de la Plata (UNLP) and Universidad Nacional Tres de Febrero (UNTREF). Director of the Sudaka TLGBI news agency and host of the Sudaka program on Radio Provincia AM 1270. President of OTRANS ARGENTINA and of the CFTTA.